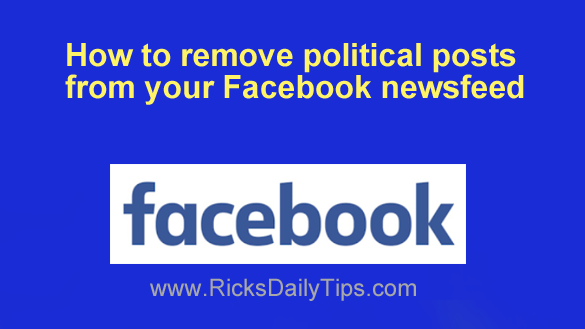 If you enjoy following politics you probably don't mind the political posts that pop up in your Facebook Newsfeed at times.
And as you've probably noticed, they tend to pop up fairly often.
Many Americans have strong beliefs and ideals when it comes to politics, and that means regardless of where a particular post might happen to fall on the political spectrum it's sure to evoke strong emotions – both for and against.
If you happen to dislike political posts and try to avoid them as much as possible, a handy browser extension called Social Fixer will hide the vast majority of politically themed posts from your Facebook Newsfeed when you're using a laptop or desktop computer (this extension doesn't work on mobile devices). 
To use it simply follow the steps below:
1 – Visit https://socialfixer.com with the desktop browser you use to access Facebook.
2 – Click the Go To Download button.
3 – Install the extension, then log in to Facebook and click the "wrench" icon on the right end of the top Facebook menu bar.
4 – Click Social Fixer Options.
5 – In the left-hand column, click Filters.
6 – Click Create A New Filter and give that new filter a title (something like "Remove Politics" for example).
7 – Find the "If" section and type any words or phrases that apply to the current election cycle.
For example, the words "Republican" and "Democrat" should always apply as well as the names of any candidates that are running for national office. You could also include words like "election", "poll", "Congress", "Senate", "Governor", etc.
In short, just include any words or phrases you would normally expect to appear in a political post.
8 – After you have entered all of your filter words, click the Done Editing Filter button at the top of the Filter Editor window.
That's all there is to it. From now on any posts containing the words you typed into the filter will be hidden from your Newsfeed.
And now, one quick caveat…
While Social Fixer does a great job at hiding political posts from your Facebook Newsfeed, it isn't perfect. Some posts will undoubtedly slip through.
If you notice posts slipping through that contain the same politically related word or phrase, go back and add that word or phrase to the filter you created in step 7 above.
And finally, one last note…
Social Fixer's filtering tool isn't just for political posts. You can create filters for most any topic you can think of.
Just create a new filter for each topic and enter the filter words and phrases that normally appear in post dealing with that topic.
Bonus tip: This post explains why there's no such thing as privacy on Facebook.
---