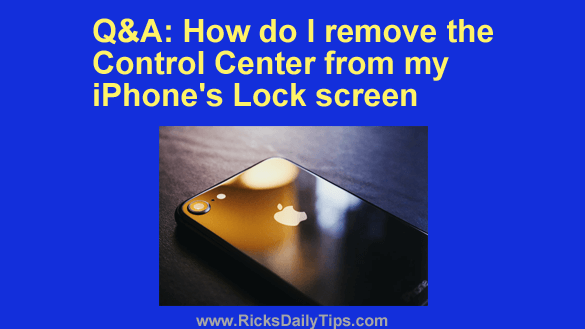 Question from Jill:  I just noticed something about my iPhone that concerns me, and I hope you can help me fix it.
I noticed that the Control Center is visible and ready to use even when the phone is locked.
How can I remove the Control Center from the Lock screen on my iPhone? 
Rick's answer:  I can certainly understand your concern over this, Jill.
After all, the reason we lock our phones in the first place is to prevent someone from being able to do anything with the device unless they know the passcode.
Luckily, it's very easy to hide the Control Center from your iPhone's Lock screen with just a few quick taps. Here's how:
1 – Tap the Settings icon (it looks like a "gear").
2 – Scroll down until you find either "Face ID & Passcode" or "Touch ID & Passcode" (depending on the model of your iPhone) and tap it.
3 – Enter your passcode.
4 – Find the "Allow Access When Locked" section and toggle the "Control Center" option to Off.
That's all there is to it. From now on the Control Center won't be accessible from your iPhone's Lock screen.
I hope this helps, Jill. Good luck!
Update from Jill:  You're a lifesaver, Rick. Thank you so much!
---