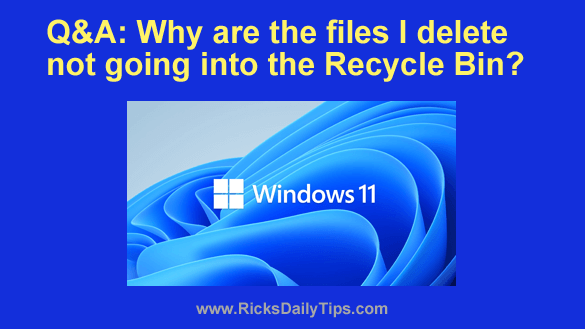 Question from Matthew:  I have a Dell laptop that I upgraded from Windows 10 to Windows 11.
Before the upgrade, whenever I would delete a file it went into the "Recycle Bin" where I could recover it later if I wanted to.
But now under Windows 11, all the files that I delete are gone forever and nothing ever gets placed into the Recycle Bin.
How can I fix this? Thanks.
Rick's answer:  Matthew, this should be an easy fix with a quick settings change. This short video shows how to do it, step-by-step.
Note: You can watch this video at full screen by clicking the little "square" icon in the lower-right corner of the video after it begins playing.
Do you prefer following written instructions? If so, here you go…
1 – Right-click on the Recycle Bin icon, then click Properties.
2 – Select the Custom Size: radio button. This should automatically uncheck the Don't move files to the Recycle Bin button.
3 – Click Apply, then click Ok.
That's all there is to it. From now on your deleted files should go into the Recycle Bin instead vanishing into thin air.
For what it's worth, I've gotten use to Windows 11 but it seems to have a nasty habit of "breaking" things like this after an update from Windows 10 to Windows 11. Hopefully Microsoft will get these little glitches cleared up before too long.
In the meantime, I recommend that you also check to make sure System Restore is still turned on after upgrading to Windows 11. I've received several reports of System Restore getting turned off during the upgrade process.
Bonus tip: Want to learn more about Windows 11? If so, I recommend a fantastic book called Windows 11 for Dummies. (#ad)
---