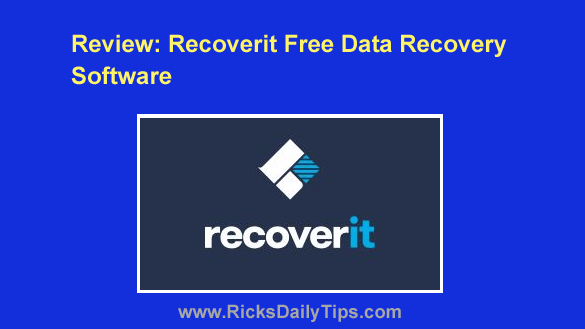 It's a fact of modern life: If you use a computer you WILL lose important files at some point due to a drive crash or some other unforeseen catastrophe.
Of course you'll probably be able to recover those lost files if you have a recent backup on hand, but what if the file(s) you need to recover aren't included in your backup set?
Even worse, what if your backup gets lost or corrupted?
Luckily, there are data recovery tools you can use to recover lost files from a damaged or corrupted drive when the need arrives.
I've used several of these tools over the years with various levels of success, and I'm always on the lookout for something better.
I recently had the opportunity to give Wondershare's Recoverit Free Data Recovery Software a try, and overall I'm pretty impressed.
Note: Although there is indeed a free option for using Recoverit, the free version is severely limited.
Most users will need to use the paid version to recover all the files they have lost. Just saying that up-front so there's no confusion.
Now the above being said, this really is awesome software. Read on for details…
Recoverit has one of the simplest, and most intuitive user interfaces of any data recovery tool I've ever used.
It really couldn't be any simpler than this:
1 – Launch the Recoverit program.
2 – Select the drive containing the lost files and initiate the scan.
3 – Wait for the scan to finish and then select the files you wish to recover from the list of discovered files.
That's really all there is to it. Pretty simple, right?
Recoverit will recover lost files from most anything that your computer can "see" as a drive, including:
Hard Drives
Solid State Drives (SSDs)
Flash Memory Cards
Smartphones
USB Flash Drives
Music Players
RAID Disk Arrays
Storage Area Networks (SANs)
As you can see, that's a pretty wide range of items.
Now for all its advantages (and there are many), I must point out one significant disadvantage…
The free version of Recoverit will only recover up to 100MB of data. That really won't get you very far if you have lots of files you need to recover (or even one file if it's a large one).
If you need to recover more than 100MB of data you'll need to spring for an upgrade to a full (i.e. paid) version of the software.
The paid plans include a 1 month subscription, a 1 year subscription and a lifetime subscription.
If you have a lot of files that you really need to recover you can always opt for the 1 Month subscription. That's more than enough time for you to complete a single data recovery job.
But truth be told, if you're going to spring for a paid upgrade to Recoverit you'd probably be better off going with the Lifetime subscription since it'll cost you just a few dollars more.
Recoverit is available for both Windows machines and Macs, and it works equally as well on both.
Bottom line: If you're looking for an extremely powerful data recovery tool that's really easy to use, I believe you'll be delighted with Recoverit.
Just be aware that the free version won't get you very far if you have more than just a few small files to recover, and the paid version isn't cheap.
Click here to read more about Recoverit Free Data Recovery Software at the Wondershare website.
---