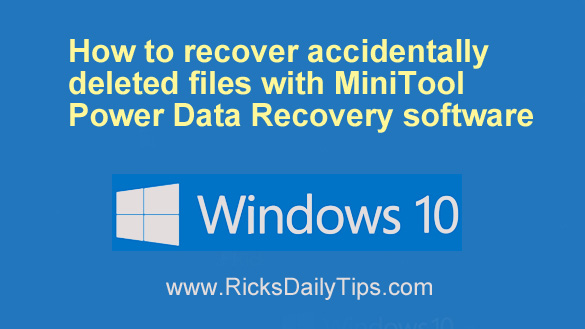 Accidentally getting some files permanently deleted from the computer's Recycle Bin is something that happens to everyone from time to time.
The consequences can be disastrous if the lost files are very important like a video you've spent hours editing, a long Word file, a business-related PDF, or even some old family photos.
And as you can imagine, emptying all the files from the Recycle Bin makes things even worse!
If you don't have any luck finding the missing files in the Recycle Bin and you don't have it backed up somewhere, using a data recovery program to get the lost and deleted files back is the best solution.
Many folks simply give up when after trying to get back the lost data because they don't know what to do next.
Whatever the reason could be for the permanently deleted files, you should stop using the computer immediately because chances are that the deleted files will be overwritten by new ones, making recovery impossible.
In this post we'll go through the process of recovering files using MiniTool Power Data Recovery software. We'll also discuss what actually happens when you delete a file on Windows 10.
MiniTool Software company has been dedicated to developing professional data recovery solutions, partition management, data backup and restore tools to millions of users for more than 10 years.
This tutorial will show how to restore accidentally deleted data on your PC or tablet.
How to retrieve deleted files on Windows 10
As I often stress, making regular data backups is the best prevention against data loss and accidental file deletion.
For most people, recovering data from a backup is a simple and efficient way to get back deleted/ lost files and documents.
If you're sure you don't have a backups containing the lost files, check the Windows Recycle Bin to see you can find them there.
Follow these steps to recover deleted files from the Recycle Bin:
1 – Double click on the Recyle Bin icon.
2 – Check to see if there are any files, videos, songs and other documents that you need in there.
3 – Hold down the Ctrl key and click on all the files you want to restore to your computer.
4 – Right-click on the selected files and click Restore to recover the selected files.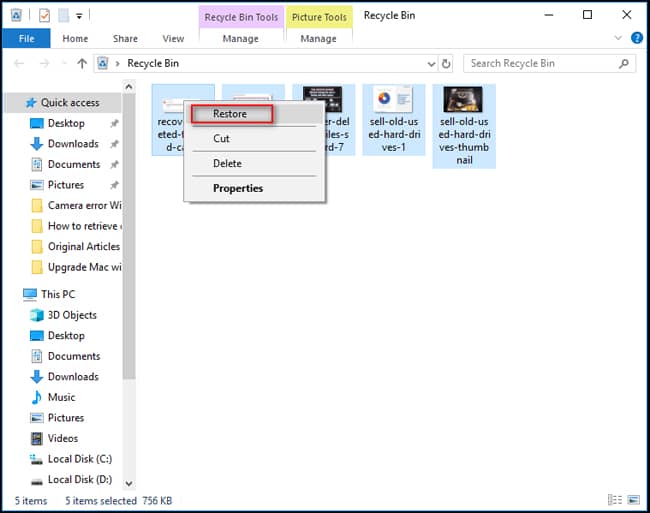 But what if the lost files aren't in the Recycle Bin? Do not worry because you still have a chance to get the deleted files back!
A free data recovery program like MiniTool Power Data Recovery will help you scan, preview and recover the deleted files.
The software also provides other advanced features to recover disk partitions, retrieve deleted or lost data from an SD card, a digital camera, a USB drive, etc.
If you're sure the files are permanently deleted and don't know how to get them back, the instructions for recovering deleted files in Windows 10, Windows 8, Windows 7 or lower versions are all quite similar.
How to use MiniTool Power Data Recovery to recover lost files in Windows 10
Before you get into the process of file recovery, download, install and run MiniTool Power Data Recovery.
Important: You should install the software to a drive that does not contain any files you need to recover since installing it to that drive could well over-write the deleted files. Just sayin'.
Follow these steps to recover deleted files after emptying the Recycle Bin:
1 – Select This PC from the left sidebar on MiniTool software .
2 – Select one partition that contains the files you have deleted. (To make things more productive, you can select the file type by clicking Settings. For example, you choose to search only pictures.)
3 – Click Scan and then wait while the MiniTool software completes the data scanning process.
4 – Browse the final scan results and check the files that you want to restore.
5 – Click Save and set a storage location for the files, and then click OK.
When you've completed the above steps, you're done. You have now completed the process of recovering lost and permanently deleted files on your Windows 10 PC / laptop.
What actually happens to file when it gets deleted?
Strictly speaking, the files do not actually disappear from your computer even if you manually delete them permanently.
Although you lose entries to those files, you still have a chance to recover them by using the proper tools.
The situation is the same when a partition file system gets damaged and you find that it's inaccessible.
Each time when you manually delete a file from File Explorer, Windows will move it to the Recycle Bin and mark it as deleted.
Even if it is cleared from there, the actual data still remains on your computers hard drive or SSD. That's why you can use the third-party file recovery software to recover deleted files or folders with just a little effort.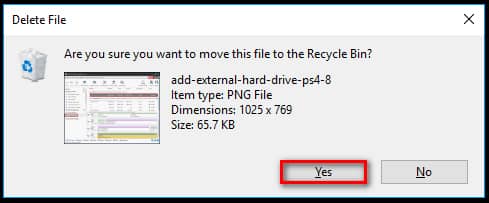 It's a useful computer skill to know how to quickly retrieve important, deleted documents with the help of the tools that are available to you like MiniTool.
Just remember that you'll need to stop using the PC to write new data after ASAP after you notice that you've accidentally deleted one or more files.
Otherwise, the lost files will be overwritten and won't be able to recover them.
Bonus tip: Want to make sure you never miss one of my tips? It's easy! Just…
Click here to sign up for my free Rick's Daily Tips Email Newsletter!
---
Would you like to ask Rick a tech question? If so, click here and send it in!
If you found this post useful, would you mind helping me out by sharing it? Just click one of the handy social media sharing buttons below. Thanks a bunch!