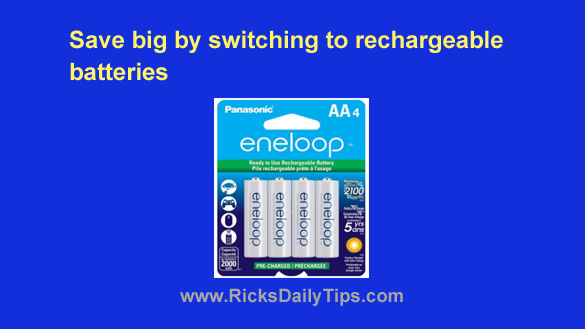 Note: The links in this post are affiliate links.
If you find yourself having to buy fresh AA and AAA batteries just about every time you go to the store, you're no doubt spending a fortune keeping your electronic devices powered up and running.
Modern non-rechargeable Alkaline and Lithium batteries are lasting longer than ever these days, but they still lose their charge and have to be replaced eventually.
And these batteries certainly don't come cheap! In fact, a decent sized pack of quality name-brand batteries can easily cost upwards of $20.
If you and your family buy a lot of batteries every year, you can save a ton of money by using rechargeable Eneloop batteries instead. 
For example, you can get this awesome set of Panasonic Eneloop AA and AAA batteries along with a high-quality charger for about twice what you'd pay for a decent set of throw-away batteries.
This photo shows exactly what you'll get in this kit: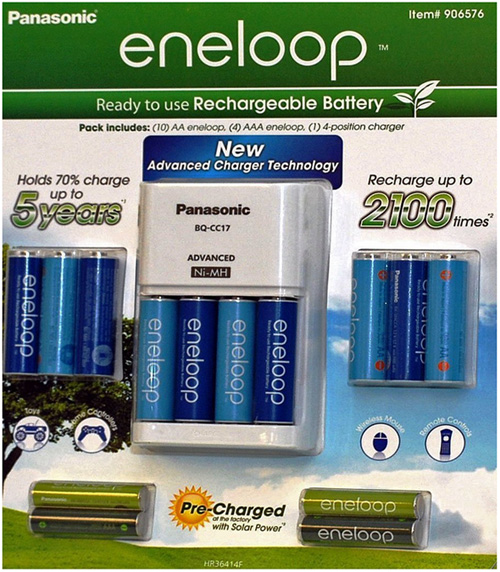 If you need more batteries than come with the kit, you can always buy extra rechargeables later without also having to buy another charger.
These Panasonic Eneloop batteries come pre-charged so they're ready to use right out of the box. What's more, they can be recharged again and again, up to 2100 times. Yes, you read that right – 2100 times!
Think about that for a moment. Instead of heading back to the store to buy more expensive batteries several times a year, all you have to do is put these little jewels in the charger overnight and they'll be charged up and ready to go the next morning.
And since these batteries will hold up to 70% of their charge for a whopping 5 years, you can keep a set of charged replacements sitting on a shelf until you need them.
When the batteries you're using need to be recharged, simply replace them with the hot spares and place them in the charger. After they are fully charged you'll have another hot set of spares ready and waiting to be used at any moment.
Bottom line: Replacing your old throw-away batteries with rechargeable Eneloop batteries can save you hundreds of dollars each and every year plus help keep our landfills clear of discarded toxic dead batteries.
Click here
to check out the full selection of rechargeable Eneloop batteries on Amazon.
---
Never miss a tip!  Click here to sign up for my free Daily Tech Tips Email Newsletter!