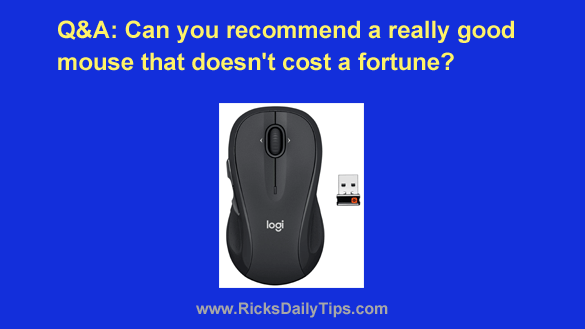 Click here to sign up for my free Rick's Tech Tips Newsletter!
---
Note: The links in this post are affiliate links.
Question from Lindsey F.:  Hi Rick. I'm hoping you can give me a recommendation for a really good mouse that doesn't cost an arm and a leg.
When I bought my first computer I was told to always use a really good mouse.
I was also told that I needed to stay away from cheap ones because they don't last very long and you end up spending more money in the long run.
Long story short, I've bought 3 mice in the last 5 years and none of them lasted very long at all. The last one I bought cost me over $70 and it only lasted about a year!
Can you recommend a really good mouse that costs less that $30? I don't need a bunch of bells and whistles, just a mouse that works well and won't stop working after just a few months.
Rick's answer:  I certainly understand your frustration, Lindsey. I've had the same experience with expensive mice that you just described, so I can definitely relate.
I too used to recommend that folks buy a better (i.e. more expensive) mouse in order to save money in the long run. And in times past that advice was sound. But things are different now.
Fortunately, the difference in quality between expensive mice and cheaper models has shrunk quite a bit in recent years.
You asked for a recommendation and I'll be happy to give you one…
I've been using the Logitech M510 Wireless Mouse on all of my computers for some time now, and I couldn't be happier with it.
This mouse works perfectly on all of my computers, and judging from the thousands of overwhelmingly positive user reviews on Amazon it's quite apparent that plenty of other folks are loving it as much a I do!
Bottom line: Price is no longer an accurate indicator of quality when it comes to choosing a good mouse.
The Logitech M510 mentioned above is definitely in your price range, and it's hands down the best mouse I have ever used.
While there's no guarantee that any mouse will last longer than the ones you've bought in the past, I'd say the track record of this one makes it a great choice, especially when you factor in the relatively low price.
I hope this helps, Lindsey. Good luck!
---
Cick here to ask me a tech question.