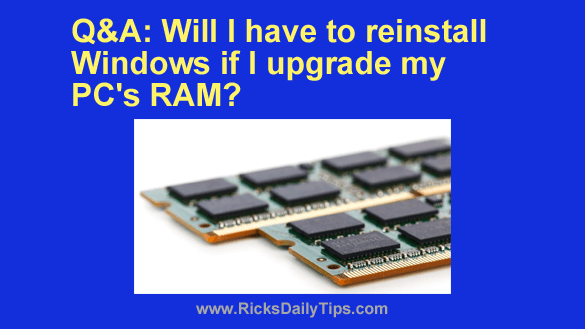 Question from Connor:  I'm thinking of swapping out all of my RAM for a better set, and I was wondering if I would need a fresh Windows install to make it work.
If reinstalling Windows isn't required, but recommended, please tell me why that is. Thanks!
Rick's answer: Connor, upgrading your PC's RAM won't have any impact at all on your Windows installation except for making it run (at least a little) faster.
All you need to do is swap out the old RAM sticks for the new ones and then get busy enjoying the benefits of the upgrade.
You won't have to do anything at all to your Windows installation or to any other installed software.
In a nutshell, adding and/or upgrading RAM is a somewhat passive upgrade.
Windows just more or less uses whatever RAM is available to it without having to re-configure anything in regards to system settings, drivers, etc.
If you need help determining what type of RAM sticks (and how many) you need to buy to complete the upgrade, I recommend that you click over to Crucial.com and run their awesome System Scanner tool.
It works great and the info it provides is almost always incredibly accurate.
---