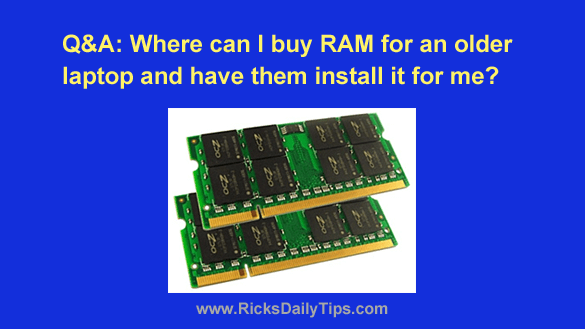 Question from Benji P.:  Rick, I took my eight year old HP laptop to Best Buy over the weekend to have them upgrade the RAM for me.
This machine only has 4GB and I want to bump it up to 8GB. I know it can use 8GB because I looked it up.
After some back and forth the guy told me I shouldn't waste my money upgrading a machine that was that old and proceeded to try to sell me a new computer. I don't want a new laptop. I like this one!
My question is do you know of a place in the Raleigh, NC area that will upgrade the memory for me? Or is this something that I can possibly do myself?
Rick's answer:  Benji, it blows my mind that a Best Buy employee would actually refuse to sell you (and charge you to install) a RAM upgrade.
After all, upgrading computers is a significant part of their business. But strange things happen nonetheless.
To answer your question, most any local computer shop should be able to order the correct RAM for your laptop and install it for you.
But that being said, you can probably do the upgrade yourself and save a bundle because a laptop that's several years old probably has a removable cover over the RAM slots, allowing for easy access.
If you can easily get to the RAM slots it's simply a matter of removing the old RAM modules and installing the new ones in their place.
Here's what I recommend:
1 – Visit www.crucial.com with the laptop you wish to upgrade. Once you're on the Crucial home page, check the box to agree to the terms and conditions and run their handy System Scanner tool.
2 – At the end of the system scan you'll be presented with the number of RAM slots in your laptop, the type of RAM it uses and a list of available RAM modules that will work with the machine.
At this point you can either purchase the RAM directly from Crucial or write down the specs for the RAM you need and buy it elsewhere (I buy most of my RAM sticks from Amazon). (#ad)
3 – After you have purchased the new RAM modules, you can easily install them in your laptop yourself as long as your particular laptop model has user-accessible RAM slots.
This excellent video from Crucial will walk you through the process, step-by-step:
You're done!
If all went well your laptop should boot into Windows and you should notice a recognizable increase in its operating speed.
You can verify the amount of total RAM that is currently installed in your laptop by pressing the Windows+Pause key combination to display the "System Information" screen.
Update from Benji:  This laptop does have a removable cover over the RAM. I ordered the two 4GB RAM sticks recommended by Crucial and I'll install them once they get here.
Thanks so much for your help!
---
Never miss a tip!  Click here to sign up for my free Daily Tech Tips Email Newsletter!