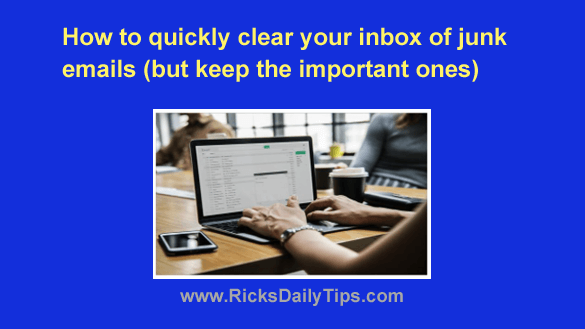 Does it seem like your email inbox receives more junk and SPAM messages each and every day?
If so, it probably takes quite a while for you to wade through all those emails and read the important messages while deleting the junk.
Well, I have a simple tip that can help you clear the junk out of your email inbox in a hurry.
Just follow the steps below every time you check your email on your laptop or desktop computer:
Note: This procedure works with most popular email systems including Gmail, Yahoo Mail and most other online email services. Is also works with virtually any desktop email client.
1 – Quickly scan through the emails listed on your screen to see which ones are important. Once you've identified which messages are important continue on to step 2.
2 – Check the box beside the first junk/SPAM email in the list to select it.
3 – Find the first important email in the list, then hold your finger on the Shift key and check the box beside the junk/SPAM email that's right above it.
Note: All the unwanted emails between the first and last consecutive junk emails should now be selected.
4 – Click the Junk or SPAM link (or whatever item your email service requires you to click on in order to mark SPAM emails as such. All the junk/SPAM emails you selected in the steps above should now be in your email service's "Trash Can".
5 – Repeat the above procedure beginning with the next junk/SPAM email in the list.
6 – After all the unwanted emails have been deleted you can empty the SPAM or Junk folder to completely get rid of them.
Note: All the messages now remaining on the screen should be messages that you want to read and respond to.
7 – Open, read and respond to the first important email (it should now be at the top of the list) and then move on to the rest of them in turn.
That's all there is to it. Pretty simple, right?
As you can see, it's very easy to select multiple consecutive items in a list by selecting the first one and then holding the Shift key while selecting the last one.
Now you know how to quickly clear the junk out of your email inbox!
Bonus tip: This post explains how to protect your device from malware while checking your email messages.
---