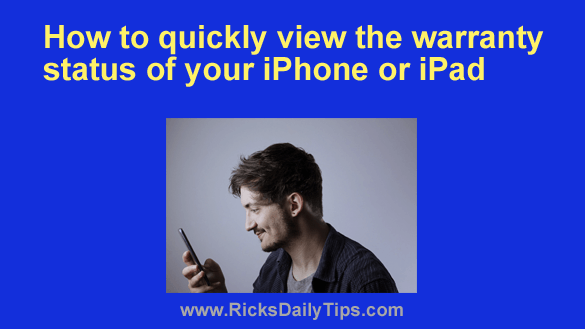 A while back I wrote a post explaining how to find the warranty status of any Apple device.
That method works well, but it can involve multiple, time-consuming steps in certain situations.
However, you can quickly determine the status of your iPhone or iPad with just a few quick taps if the device is still in working order. Here's how: 
1 – Tap the Settings icon (it looks like a "gear").
2 – Scroll down and tap General.
3 – Tap About.
4 – Find the line between "Serial Number" and "Network". That line displays your device's warranty status, which will be either "Limited Warranty," "AppleCare+," or "Coverage Expired."
If it says Coverage Expired that means the device isn't covered by any type of Apple-supplied warranty.
However, if it says either "Limited Warranty" or "AppleCare+" that means the device is covered by either Apple's standard limited warranty or a premium AppleCare+ service plan.
Depending in on which one is displayed, click on Limited Warranty or AppleCare+ to view the date on which the device's current warranty coverage will expire.
---