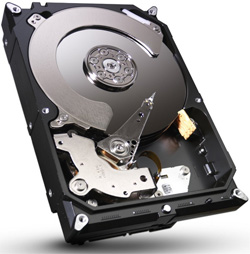 Question from Eric J.:  I have an older Gateway desktop computer that came with a 320Gb hard drive, which is now full. I bought a new Seagate 1TB drive and installed it in the computer.
How do you recommend that I back up the smaller drive onto the larger one? Can I just copy my files from the small drive onto the new one and then delete them from the old drive to free up some space?
I want to make sure I do this right because I don't want to lose any of my files. I'll really appreciate any advice you can give me. Thanks.
Rick's answer:  You could do it that way Eric, but I recommend that you don't. What I would do if I were you is clone the contents of the original drive onto the new drive, then make the new drive the primary drive (boot drive). This is very easy to do.
There are several advantages to making the new drive the primary drive:
1  – Since your new drive is roughly three times larger than the 320GB drive, it will take a lot longer to fill it up as you add more programs and data.
2 – The new drive is sure to be faster than the old one, which means your computer should run faster with the new drive operating as the primary drive.
3 – The new drive will almost certainly outlast the old one, so making it the primary drive will make it less likely that you'll have to replace the primary drive again any time soon.
Cloning your old hard drive and making the new one the boot drive is fairly easy. Here's how:
1 – If it didn't come bundled with the new hard drive, download the free DiscWizard hard drive utility from the Seagate website, then install it.
2 – Run DiscWizard and follow the prompts to clone your old hard drive to the new one. You'll find complete step-by-step instructions for using DiscWizard on this page.
3 – After you have successfully cloned the drive, change the boot order in your computer's BIOS settings to force Windows to boot from the new drive.
You can enter the BIOS settings utility by pressing a special key right after you turn your computer on. Simply press the power button and watch the screen carefully. A message should flash on the screen telling you which key to press to enter the BIOS Setup utility.
4 – Optional, but strongly recommended: Purchase an inexpensive external USB hard drive (#ad) to use as a backup drive.
Why do I recommend purchasing an external hard drive when you will already have the old 320GB drive in place to use as a backup device? Well, there are three reasons:
1 – Even if you were to erase everything on the drive, you would still only have roughly 300Gb of storage space available for backing up your data. That won't be nearly enough to back up the 1TB drive which is sure to fill up faster than you can imagine.
2 – I recommend keeping the 320Gb as a bootable backup in case the 1TB drive does happen to bite the dust. Simply remove the old 320Gb drive from the computer and place it on a shelf. Then if the new drive ever fails you can just remove it and re-install the old drive and you'll be back up and running in minutes.
You can then purchase another new drive and either repeat the cloning/drive swapping process listed above or re-install everything ont o the new drive from a System Image stored on the external drive.
3 – If your backup drive is physically installed inside your PC's case (and electrically connected to it), a lightning strike or strong power surge could take out both drives, effectively leaving you without a backup medium to recover from.
I hope this helps Eric. Good luck!
---
Do you have a tech question of your own for Rick? Click here and send it in!