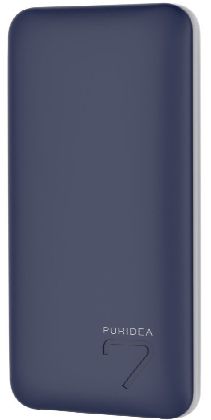 With all the mobile devices we carry around with us these days, it really pays to have an external power bank/charger on hand to keep them all powered up and running.
I've tested a bunch of portable chargers in recent years. Some of them were great, and others left much to be desired.
I recently had the opportunity to check out the Puridea S4 6600 mAh Portable Charger, a thin, yet powerful device that claimed to be able to charge an iPhone up to three and a half times on a single charge.
The first time I picked up this device I was struck by how thin it is. Unlike most external battery packs, this one is actually thinner than many modern smart phones.
But even with its thin profile, it still seems to be well-constructed and quite durable. 
I tested this charger with two smart phones: a Samsung and an LG.
After I topped off the Samsung's battery, I set about testing its total charging capacity. I found that it performed quite well by also charging the LG. That's pretty good for a charger this thin and light.
After recharging the charger's internal battery, I set about testing it with a generic 8″ Android tablet. I ended up getting one full charge and a second partial charge (from about one-third empty). Again, not bad at all for such a compact portable charging device.
There is one thing about this device that I feel could be a little better, and that's the texture of the case.
While quite attractive, the case is very smooth and I find that it tends to to slip out my hands if I'm not careful. And although it fits easily in my shirt pocket, it also easily slides out when I bend over.
But then I'm a bit of a klutz, so maybe it's just me. But you do need to be aware of the somewhat slippery case.
Overall, I really like this charger. I actually found it to be a little more powerful than the sales page claimed it would be, and its internal battery seems to charge up faster than most other similar chargers that I have tested.
Bottom line: All things considered, I consider this little gem from Puridea to be a great charger that's well worth it's modest cost.
Bonus tip: Want to make sure you never miss one of my tips? Click here to join my Rick's Tech Tips Facebook Group!
---
Want to ask Rick a tech question? Click here and send it in!
If you found this post useful, would you mind helping me out by sharing it? Just click one of the handy social media sharing buttons below.