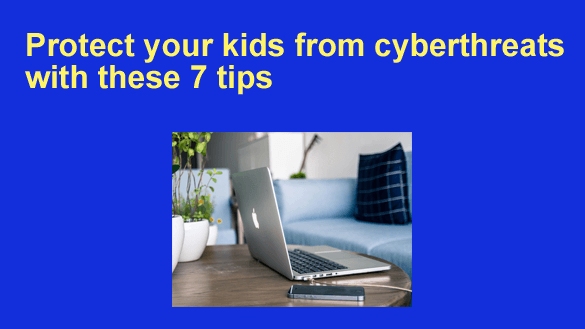 Kids have never been more reliant on the internet, and that's a scary thought. More and more assignments and learning opportunities are moving online, and children often have no choice but to use the internet to complete their schoolwork.
Online gaming is also becoming increasingly popular, and kids use the internet to stay connected with their friends.
While the internet serves as a helpful tool, it's also a dangerous place where kids can be exposed to inappropriate content, cyberbullying, scams, and online predators.
If you're worried about your child's cybersecurity, follow these seven tips to foster a safe online environment: 

1 – Create Open Communication
Ultimately, parents cannot control every experience their kids have on the internet, and that's why communication is so important.
Begin by creating a safe space for children to come forward with uncomfortable online experiences or concerns.
Start discussions about internet safety and responsible online behavior from a young age. This helps normalize conversations about the digital world and encourages kids to talk about their experiences openly.

2 – Educate and Empower
Children need to know why the internet can be dangerous. Have open conversations with them about the potential risks and dangers online.
This helps children make informed decisions about their internet use and helps them understand why they shouldn't be messaging strangers or sharing personal information.
You should also encourage them to report any uncomfortable or suspicious encounters.

3 – Set Age-Appropriate Boundaries
Many parents fear that their children will be exposed to inappropriate content or predators while browsing the internet, and unfortunately, research shows that nearly one in seven children is contacted by an online predator.
To avoid this, set some boundaries regarding appropriate content and screen time based on your child's age and maturity level.
Here are a few tips for creating fair guidelines:
Create areas in your home or times of day where screens are not allowed. For example, you could ban cellphone use during dinner or prohibit screen time in the bedrooms.
Use parent control software to limit access to only age-appropriate websites.
Encourage educational content and align screen time accordingly.
Be prepared to adjust the boundaries as needed. This ensures that your approach remains age-appropriate and effective.

4 – Stay Informed
As a parent, it's important to stay up-to-date about the latest technology trends and what apps kids are using. This will help you decide which platforms are suitable for children and what risks kids might face online.
Connecting with other parents about internet safety can also be helpful.
Try joining online parenting forums or communities where parents share experiences, concerns, and best practices.

5 – Secure Devices and Accounts
Teach your children the same basic cybersecurity practices that you follow.
This includes setting strong passwords for devices and accounts, enabling two-factor authentication, updating devices, and safeguarding any private information.

6 – Encourage Safe Online Socialization
In a recent study about internet safety, 79% of respondents reported that their child received physical threats while playing games online, and 41% reported that racist, sexist, or mean comments were sent to their child.
To avoid these harmful interactions, parents should steer their kids towards safe online spaces.
Help children build healthy online relationships with the following tips:
Start by emphasizing the importance of respectful and kind communication. Teach kids to treat others online as they would in person.
Keep track of your children's online friends and followers. Most of their online interactions should be with people they have met online. Also, remind kids that not everyone they encounter online may have good intentions.
Have conversations about appropriate online behavior, and encourage reporting any incidents of cyberbullying or suspicious behavior.

7 – Use tools for extra protection
You can also look to other tools for added protection. Consider downloading a parent control software to filter content and limit screen time.
Many parental control tools also provide activity reports, allowing parents to monitor their child's digital activities.
Other tools include safe browsing extensions and plugins to help block harmful websites.
If you're worried about data protection, consider downloading a VPN for static IP, which can help safeguard your child's sensitive information.
This is especially important if your children frequently connect to public Wi-Fi networks.

Empowering a Safe Digital Future
Online safety is becoming more and more important. Children are especially vulnerable on the Internet, so as a parent, it's important to carefully monitor your child's internet use.
By following these seven steps, you can guarantee that your children are navigating the online world safely. Stay informed and connect with other parents to make the internet a safer place for your kids.


---