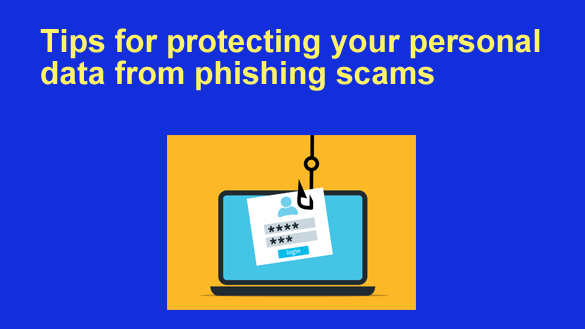 Hackers and scammers are having a bumper year in 2023, and phishing scams are becoming the driving force behind the tidal wave of cybercrime that is fooling even IT professionals.
Phishing scammers use a range of techniques to steal people's credit card details and passwords, and victims end up losing their money and social standing or getting a malware infestation.
VPNs have recently become a must-have for people to stay private on the internet. But how effective is a VPN to protect you from phishing? 
This post looks at the dangers of phishing and what a VPN for Chromebook, tablet, or smartphone can do to help avoid phishing scams and protect you online.
What is phishing?
Phishing is when scammers pretend to be a trustworthy company, such as a bank or a government agency, to trick people. They can either trick you into revealing sensitive information or get you to click on a link that will prompt a download of malicious code. Scammers use email, phone calls, text messages, or pop-up windows on the internet to get your attention.
They design their phishing messages to trigger your curiosity, fear, anger, or even greed, and they use language crafted to blast you into action – to act fast before you miss out.
Some of these scammy offers can be hard to resist, especially if attackers already have some of your private information. If they know your name, address, the name of your dog, or where you bank, they can insert that info into the phishing message to make it look more convincing.
All they want is for you to click on that link, which can either send you to a phony website where they can capture your login details and sensitive information or a malicious website that will trigger the download of ransomware or a virus.
How to avoid phishing?
The first rule for avoiding phishing scams is to always be suspicious of what may lurk in your inbox. If you receive an email or any other message that asks you to provide sensitive information, double-check the sender's identity – without clicking on anything!
If it's from an unknown person, the safest action is to mark it as spam and delete it. Don't open it or click on any links. If it's from a company, don't type in the website name, but rather Google the website to see what turns up in the search results.
Always double-check the spelling of URLs in email links. You could consider setting your email client to always display your messages in plain text rather than HTML because it's easier to check plain text links for URL redirection. URL redirection is when the link sends you to a website that appears to look the same as the original website but is a fake site set up to capture your logins and personal details.
You can also right-click on the name of the sender to copy the email address, then create a new email and paste the sender's address into the new email's address line to check the sender's identity. If the email address is from a different domain than the original message, you can be happy that you've just dodged a bullet!
How can a VPN help you to avoid phishing scams?
A Virtual Private Network (VPN) can help you fight phishing scams in two ways:
Privacy is the ability to keep our personal information confidential and safe from prying eyes and is an important component of security. If your actions on the internet are an open book, it's very hard to stay safe online.
Security refers to the tools we can use to protect us from malware, hacking, and cyber-attacks.
VPNs protect your privacy, but some VPNs also have additional built-in security tools to help keep you safe.
A VPN keeps your personal data private
We often underestimate how much damage scammers can do using only a few pieces of private information. It's easy to get hold of our information because search engines like Google and social media platforms like TikTok and Facebook continuously collect our personal data. Then they sell it to data brokers who use it for targeted advertising without your knowledge or consent.
The data often ends up on the dark web, where hackers can buy information about your browsing history or social media activity. They use it to create targeted phishing campaigns and commit identity theft.
A VPN protects your privacy online and helps to keep sensitive data hidden from prying eyes.
A VPN protects and keeps your data secure
A VPN is a software that creates an enclosed, secured connection or tunnel for the data that moves between your device and the web. It uses encryption technology to turn everything into meaningless, random characters before transmitting it. The message gets decrypted at the other end after it has reached its destination so that humans can read it. If an outsider captures the data flow while it's in transit, they won't be able to decipher it.
This means they cannot steal your passwords, sensitive information, or spy on everything you do online.
Advanced VPNs also have extra security functions, like the ability to scan internet links to identify sources of malware and block access to malicious websites.
Conclusion: Never drop your guard
Some phishing attempts are very easy to spot, but don't become blasé about your safety if you manage to spot one in your inbox. Remember, it can take just one well-crafted message to dunk you into a nightmare of identity theft, financial loss, and social embarrassment. Stay alert, and use a VPN to encrypt your data, protect your connection and stay private online.
---