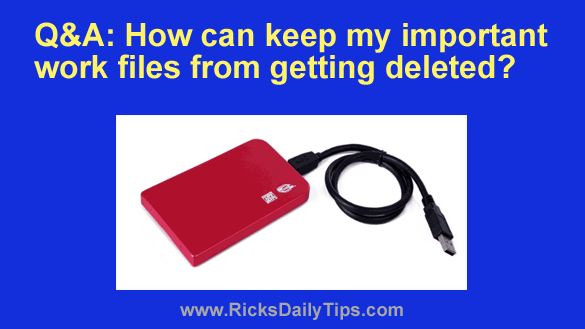 Note: The links in this post are affiliate links.
Question from Ellen: Hi, Rick. I'm a freelance graphic artist and I do all of my work on a Dell desktop computer running Windows 11.
I have hundreds of images that have either already been delivered to the customer or waiting to be delivered, and about a dozen more that are works in progress.
The problem is my husband and daughter also use this computer for Facebook, homework and games. I'm deathly afraid that my important files might get deleted somehow.
Is there a dependable and secure way to make sure they don't end up getting deleted somehow? 
Rick's answer: You have several options for protecting your important work files Ellen, and I have listed them below in order of preference:
1 – Buy a second computer for family use and reserve the one you have just for work. I don't know what your budget is, but this is definitely the best way to go in my opinion if you have the cash available for it.
Entry-level laptops
and desktop PCs
are relatively inexpensive these days so I truly believe this is your best option.
2 – Store all of your images and other work-related files on an external USB hard drive
.
When you have finished working for the day you can simply unplug the external drive and lock it up in a desk drawer or some other secure location.
3 – Store your files in the cloud using a service like OneDrive, Dropbox or Google Drive.
Important: Always keep in mind that if something happens to the drive you store your files on, they'll be wiped out. That's why you need to keep a current backup on hand at all times!!
Any of the above methods will help keep your important files from getting accidentally deleted, but I strongly recommend keeping an off-site backup of your files as well. Carbonite is an excellent solution for that.
And now, one more reminder about the importance of making frequent backups…
Regardless of how you ultimately decide to proceed, I strongly recommend that you create regular System Image Backups of your computer's hard drive. This post explains how to do that.
---