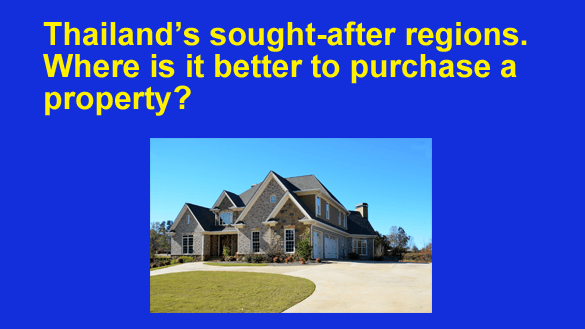 Thailand is a world-class resort that attracts real estate hunters from all over the world.
The most sought-after regions are Bangkok, Pattaya and Hua Hin, as well as the islands of Phuket and Koh Samui.
It is here that foreign nationals buy various properties. However, each region has its own peculiarity. Thailand-Real.Estate has collected the most popular ones. 


Luxury apartments in Bangkok
Bangkok is one of the fastest growing cities in Southeast Asia, vibrant and dynamic. It is home to more than 5.5 million residents who consider this city a new business and financial centre, with power to compete with Singapore and Hong Kong. The cost of 1 m2 on average is $10,000. For example, a 50 m2 apartment will cost $500,000.


Cheap residences in Pattaya
Pattaya offers a rich choice of apartment complexes. Here you can find high-rise buildings, so the supply exceeds the demand. You can always find interesting options both from the developer and on resale at the most affordable price.
In Pattaya, property prices are lower than in other regions. You can purchase a cozy studio for $30,000 or a house for $100,000. Foreigners prefer to buy local properties for recreation or permanent residence, because this location has:
International schools, kindergartens and hospitals
However, it is difficult to make good money on rent or resale here because of the high competition.
 Housing in royal residence in Hua Hin
Hua Hin is considered the Thailand's safest city, as it is the royal residence. There has been a construction boom here for the last few years.
The first line by the sea is built up with hotels and condominiums. Apartments in Hua Hin, unlike other regions, have at least 40 m2 and cost $80,000 or more. A villa on the first line of the city beach will cost about $1,000,000, and you can buy a house for $250,000 outside the city, away from the beach.


Premium villas by the ocean in Koh Samui
Koh Samui is a small island with snow-white beaches and coconut plantations. The mountainous terrain in the central part makes it possible to build infrastructure and all necessary amenities along the coast.
There are many premium villas up to 12 meters high. Luxury villas by the sea make the resort unique among buyers. Such a property costs about $3 million. A villa in the mountains with a sea view will cost from $400,000.
Overseas buyers prefer to buy villas in Thailand with a balcony, a garden and a private pool near the beach and infrastructure for $250,000. However, the infrastructure is developing. Direct flights are limited to neighboring countries.


Investment-attractive and family-oriented property in Phuket
Phuket is the pearl of the Andaman Sea. The island has amazing nature, mountains and beaches with snow-white sand. Over the past 20 years, the island has become a Mecca for tourists from all over the world. Its advanced infrastructure and upscale amenities offer everything for a comfortable life such as:
International schools and hospitals
Foreign nationals prefer to purchase real estate in Phuket for permanent residence or investment. This is the only region of Thailand where property prices and demand are steadily growing. The fact is that Phuket is an island, so the territory is limited. In addition, about 80% of the island is covered by mountains and national reserves, where it is impossible to build.
Therefore, the infrastructure is located from north to south along the coastline 50 km long. There are buildings of no more than 7-8 floors on flat terrain and 1-2-storey buildings on the slopes of mountains with a stunning view of the ocean.
The price for a 30 m2 studio in Phuket starts at $80,000, and the initial price for properties in more popular tourist areas is $100,000. You can purchase a small villa for $250,000-300,000. There is no upper threshold for investment. You can buy a luxury villa for $10 million here. Although, professional investors prefer to invest in branded apartments managed by famous international hotel chains, which will bring 10-15% of the annual rental income.


Summing up
You can purchase a cheap residence in Pattaya. Koh Samui can offer you various luxurious villas by the ocean. The Hua Hin real estate market has optimistic prospects to develop the luxury real estate segment. Bangkok's elite residences are suitable for business owners in Asia. Phuket real estate is ideal for family holidays of all generations and for obtaining rental income.
So, the decision is yours. Thailand-Real.Estate and its professional brokers can provide you with a comprehensive portfolio of the most attractive properties in Thailand at the best prices. You will definitely find what you are looking for among the premium real estate options for permanent residence and investment in the Kingdom.


---