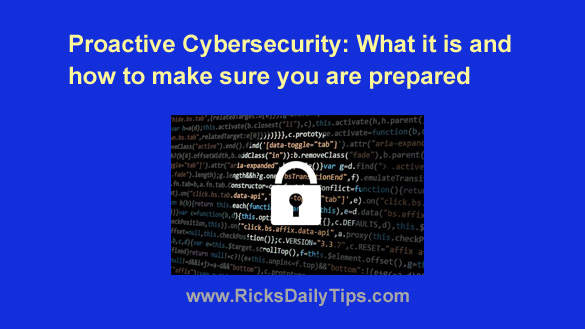 "If you want peace, prepare for war", goes the old Latin adage – and one could argue that in no industry does this approach stand truer than in cybersecurity.
Traditional, reactive cybersecurity focused on setting up defenses, identifying breaches, and mitigating damage.
Proactive cybersecurity takes it up a notch by constantly monitoring and adapting to new threats.
Why does a proactive cybersecurity approach matter and how can you ensure optimal implementation across your business or organization?
What is proactive cybersecurity – and why does it matter?
As enterprises increasingly rely on digital infrastructure and online solutions like cloud computing in order to operate on a day-to-day basis, cybersecurity has risen at the forefront of every successful business strategy.
Data breaches are increasingly costly for businesses, both in terms of resources needed to respond to the breach and in reputation damage.
According to a study published by Statista, the average organizational cost of a cybersecurity breach incident has risen from roughly $7 million in 2016 to $7.91 million in 2018, and $8.19 million in 2019.
In the short term, setting up proactive cybersecurity measures might seem more expensive than simply reacting to an incident – yet avoiding a costly data breach is a financially sounder choice in the long run.
Taking a proactive approach is currently prioritized across a wide range of cybersecurity services, from employee awareness to server protection.
Your server is the foundation of your digital operations and one of the main points of entry for hacking attacks, which means that it also merits added protection. State-of-the-art server monitoring software nowadays takes a proactive approach by closely monitoring server performance, including uptime, capacity, and application performance with real-time feedback.
Real-time user activity monitoring can also help pinpoint abnormal behavioral patterns that can signal malicious attempts, making it one of the central tenets of proactive cybersecurity.
How to implement a proactive cybersecurity strategy
The first step to adopting a proactive approach is to make sure that you regularly take the time to pause and identify the threats that your organization might be facing.
Hiring an outside counsel to provide frequent reports on the most common attack vectors within your industry is a good starting place, if you are not in a position to carry out this task on your own.
Once you know what you are up against, you need to frequently review your own cybersecurity policy to ensure that you are covered both against traditional and emerging risks.
The next pivotal step is to pinpoint your own vulnerabilities – which essentially means understanding how the various components of your online systems could be exposed and prioritize what and to what degree should be protected.
For example, if you are handling sensitive data, you have added regulatory obligations to take extra security measures, including pseudonymization and encryption. Finally, you need to set up a well-rounded cybersecurity plan that ranges from employee training to front-line defense mechanisms like firewalls and web-filtering.
But the key to a proactive cybersecurity is to go the extra mile: beyond the usual security measures, you need to establish routine check-ups, along with added layers of protection that include real-time monitoring of behavioral and access patterns.
Last but not least, keep reviewing possible threats and re-training your staff and IT experts for optimal implementation of your internal policy.
When it comes to proactive cybersecurity, constant vigilance is the name of the game. And this could make or break your cybersecurity defenses when they face new and less well-known types of hacker attacks.
Bonus tip: Want to make sure you never miss one of my tips? It's easy! Just…
Click here to sign up for my free Rick's Daily Tips Email Newsletter!
---
Would you like to ask Rick a tech question? If so, click here and send it in!
If you found this post useful, would you mind helping me out by sharing it? Just click one of the handy social media sharing buttons below. Thanks a bunch!