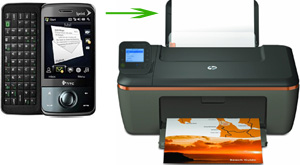 Many of us use our smart phones or tablets more than our computers these days, and while these gadgets sure are handy, printing from them often isn't. But there are ways to do it, and most of them involve downloading an app.
Some devices are able to connect directly to a printer via a USB cable using software that came pre-installed on the device. Check your device's user manual to see if yours is one of them. If not, or if you prefer to print wirelessly, you'll probably need to download an app written just for that purpose.
Some wireless printer manufacturers include an app for printing wirelessly from a mobile device on their printers' Setup CDs. Others make the app available as a free download directly from their website. Your printer's user manual should give you the details if an app is available for it.
If an app isn't available for your specific wireless printer, you'll need to download a generic printing app that should work with most wireless printers on the market today:
1 – If you have an Android device you can use Cloud Print. It works great, but it does require that you have the Google Chrome web browser installed on your computer. The computer must also be powered up in order to print from your mobile device. You can download the Cloud Print app for free from the Google Play Store.
If you would prefer to print from your Android device directly to your printer without going through your computer there are apps available in the Google Play Store that will allow you to do that, but they aren't free.
2 – iPad and iPhone users can use AirPrint, but this app doesn't work with all wireless printers. If yours is one of them you can use Print n Share, a great app that works with most current wireless printers – but again, this one will set you back a few bucks.
One would think that since Wi-Fi is an important feature built in to virtually all modern mobile devices that all of them would come with native wireless printing capability right out of the box. I believe that will be the case some day, but until then we'll need to use an app.