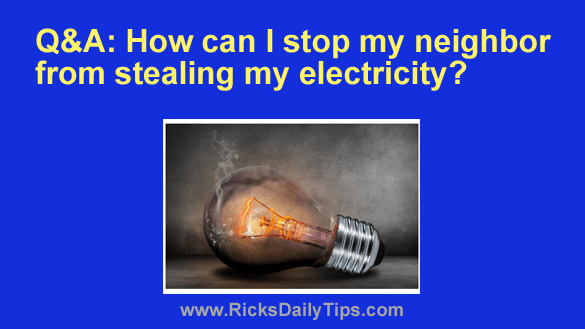 Question from William: I have a detached garage that has a 120 volt electrical outlet that's accessible from the outside.
On cold nights (which we have lots of here in Wisconsin) my jerk of a neighbor likes to plug his diesel truck's block heater into that outlet with a long extension cord.
I've told him to stop doing this on three different occasions because I don't like him running up my electric bill.
He'll stop, but then a few days later he goes right back to doing it.
I'm thinking about temporarily connecting 240 volts to that outlet (which would be very easy to do in the garage's breaker panel) to destroy his truck's block heater and teach him a lesson. Do you think that would work? 
If not, do you have another suggestion? I just want him to stop stealing my electricity!
Rick's answer: William, the short answer to your question is yes, applying 240 volts to your neighbor's 120 volt diesel block heater would most likely destroy it.
AC powered electrical gadgets are designed to work within a given voltage range because actual voltages from the power grid can vary a bit. However, 240 volts is WAY out of the acceptable range for most any 120 volt gadget in use today.
So yes, temporarily connecting 240 volts to that one 120 volt outlet would almost certainly "teach your neighbor a lesson".
But as they say, just because something CAN be done doesn't mean it's wise to do it.
For starters, doing something like this could well turn a bad neighbor into an absolutely horrible neighbor.
If you watch the news on a regular basis you know that some folks tend to do some rather outlandish things in response to things like this. Someone could actually end up getting hurt.
Second, if someone else in addition to your neighbor also uses that outlet (a family member, for example), you would end up destroying their equipment as well.
And third, under certain conditions 240 volts can be a lot more dangerous to humans than 120 volts.
And finally, depending on the laws in your local area, applying 240 volts to an exterior 120 volt outlet that you know to be used by someone else could place you in serious legal jeopardy.
Now that we have the "here's why you really shouldn't do that" out of the way, here are a couple of things you can do to prevent your neighbor from piggybacking off of your electric service:
1 – Simply turn off the circuit breaker to the external outlet when you aren't actually using it. This method is completely free, and it's 100% effective.
2 – Enclose that exterior outlet inside a lockable outlet cover (#ad).
Either of those two options would work extremely well in your situation. And it will also prevent children from getting electrocuted by sticking something inside the outlet.
Bottom line: I know how frustrating problem neighbors can be, but sometimes it pays to take the least extreme measure possible to successfully put a stop to bad behavior.
I hope this helps, William. Good luck!
Update from William:  That's good advice. I'll just shut off the power to that outlet for now. Spring's almost here and he won't need to plug his truck in at all once it gets here.
---