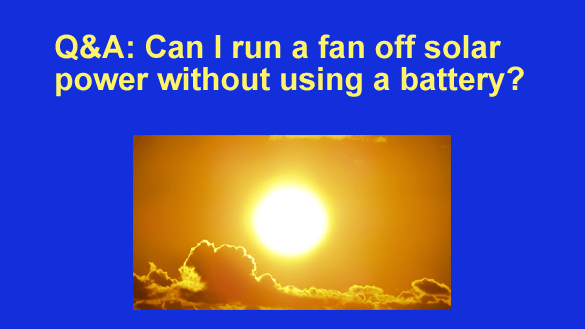 Note: The links in this post are affiliate links.
Question from Adam:  I hope you can answer a question about solar power for me.
I have a small outbuilding that's located about 120 yards from my house. This outbuilding has a dark green roof and it gets extremely hot inside on hot summer days.
What I'd like to do is install a fan in the eve of the building to pull fresh air into the building while expelling the hot air, but there's no electric service there to power the fan.  Can you help me with this? 
I really don't want to go to the trouble and expense of burying a power line between the two structures so I'm looking for an alternative.
What I have in mind is mounting a solar panel on the roof of the building and using the electricity it generates to power the fan. The problem is, I read that off-grid solar power setups have to have a solar battery in order to work, and those batteries are really expensive (I've checked).
My question: Is there any way to run a fan off solar without having to buy a battery? And if the answer is yes, can you recommend the best solar panel to use that (hopefully) costs $300 or less?
Note: I have a 20 inch box fan that would be perfect for this application.
Rick's answer:  That's a great question Adam, and the short answer is yes.
Most off-grid solar installations do require batteries since the sun doesn't shine at night and solar panels don't generate electricity in the dark. But that shouldn't be a problem in your situation because the building won't heat up at night (it will actually cool off).
Here are two options for you to consider:
1 – The DIY "learn how solar works" solution
If your 20 inch box fan is typical it probably draws no more than 100 watts when running at its highest speed, and it would draw even less if you run it on low or medium.
However, solar panels aren't 100% efficient there will be days when the sun peeks in and out of the clouds. That means you would rarely if ever get a full 100 watts from a 100 watt solar panel. You would really need a 200 watt panel to ensure the best performance.
You'll find plenty of 200 watt solar panels to choose from, but here's one I found on Amazon at an affordable price that should work well for your no-battery solar installation.
Even though it's listed at 12 volts, this panel actually produces somewhere in the neighborhood of 18 – 20 volts DC. Keep that in mind for later.
You'll also need a DC to AC power inverter to convert that low DC voltage into the 110 – 120 volts AC that you'll need in order to power the fan.
I once again checked on Amazon and found this very affordable 500 watt pure sine wave inverter that should work just fine for your setup.
But there's a slight problem…
This inverter requires 12 -14 volts DC, not the 18 – 20 volts that's supplied by a 12 volt solar panel. That means you'll also need this voltage reducer converter to go between the solar panel and the inverter.
And finally, you'll need this solar panel extension cable set to connect the solar panel that'll be on the roof of your building to the voltage reducer converter.
If you add up the prices of the items mentioned above you'll find that the total comes to a bit less than the $300 you set as your budget for this project.
Now this might sound like a complicated setup, but it really isn't…
Simply install the solar panel on the roof of your outbuilding (you'll find plenty of videos on YouTube showing how to do this), then connect it to the voltage reducer converter according to the instructions.
Next, connect the output of the voltage reducer converter to the input of the 500 watt pure sine wave inverter and finish up by plugging the fan into one of the inverter's 110 volt AC receptacles and turning the fan's speed control/power knob to the desired fan speed.
After you have everything connected together as described above, the solar panel will start producing the power the fan needs just as soon as the sun get's high enough in the sky to cause the panel to spring into action.
The fan with then run throughout the day until the sun drops low enough in the sky in the evening to cause the panel to stop producing electricity, by which time you won't really need to have to fan running in order to cool the building. The darkness of night will take over and do that job until the next morning.
2 – The fast and easy solution
Instead of purchasing all the items mentioned above and spending hours putting everything together, you can simply purchase an easy-to-install solar fan kit.
If you're looking for ease and simplicity, this is the way to go in my humble opinion.
So there you have it. Now you have a couple of options to choose from for keeping your outbuilding cool on hot, sunny days.
Regardless of how you decide to proceed, I wish for you much luck and success with your solar powered fan installation.
---