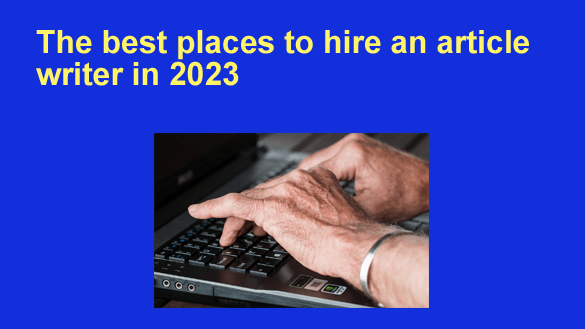 Outsourcing writing work is very common among entrepreneurs and people who make money on content creation.
High-quality articles (blog posts, social media posts, and so on) translate into engaged audiences and, therefore, revenues. So if you've decided to hire a professional writer, good for you! This post explains where you can get one. 
Why You Might Need an Article Writer
Do you have a blog that promotes your business? Would you like to improve the quality of content there or just post more? If that's the case, it's a good idea to hire article writer, especially if you feel like writing every article yourself is starting to get too much. Unless your blog is the only thing you do, it might be challenging to juggle all your responsibilities without getting overwhelmed.
But that's just one example of why you might need a professional article writer. Another common reason is the lack of writing or SEO skills. You may be good with words, but that's not always enough if you want your articles to generate traffic and increase your audience's engagement. Hiring a professional is an excellent investment that will pay off in no time.
Here are the best places to hire an article writer in 2023:
1 – Skillhub
Skillhub is a writing assistance service that can help you with any written content, from resumes to translation to article writing. You can also find helpful article writing tips in its blog. It has a large team of skilled and experienced writers. So no matter what the topic of the articles you'd like to order is, Skillhub will have someone with the right area of expertise.
While it isn't as cheap as some freelancers you can find on online marketplaces, Skillhub is perfectly affordable. You can hire a writer for as little as $20 per hour, yet the quality of the writing they'll deliver will be much higher than what you'll get from a low-paid freelancer from Upwork or Fiverr. So if you're looking for a fair price-quality ratio, Skillhub is the right choice.
2 – Upwork
Everyone has at least heard of Upwork, even if they have yet to use it. It's the largest online marketplace for freelance services, including writing. The best thing about it is the sheer number of writers you can find there—estimated that up to 1.5 million freelancers offer writing services on Upwork. No other platform comes even close.
Upwork writers come from all places and paths of life. Some of them live in countries with a much lower cost of living than the average in North America. That allows customers to order writing services for a modest fee, sometimes as low as $5 per hour. But there's a catch—the quality control system on Upwork is less than perfect. You might end up with an article way below your expectations.
3 – Fiverr
Fiverr is Upwork's smaller alternative, and some writers charge even less than their colleagues from Upwork. But the same problem persists. Many Fiverr clients have no choice but to order the same article again from a different service because of the low quality of the work they received from the platform's writers. They say that a cheap person pays twice, and this saying applies perfectly to low-paid freelance services.
4 – Draft
The draft is more similar to Skillhub than global marketplaces. Its writers are carefully selected and regularly monitored by a quality control team. Also, they are native English speakers, which is not the case on Upwork or Fiverr. Thanks to Draft's vetting process, you can be more or less confident that the article you'll receive will be up to your standards.
That being said, if you hire an article writer from Draft, you pay for the word count (as opposed to the time). Some clients prefer such a system. But, contrary to popular belief, it typically results in higher overall fees. So if the price is one of your priorities, Draft may not be the best idea.
5 – WordAgents
WordAgents is one of the pricier writing services, but it has its benefits. The most important one is that all WordAgents' writers specialize primarily in SEO content writing. So if the primary goal of the article you'd like to order is to generate traffic for your website, WordAgents is the right place for you.
WordAgents' downside is an unnecessarily complicated pricing system. It can work well if you want to order SEO-optimized content regularly. But if you'd like to start with one or two articles to see what to expect from the service first, WordAgents isn't your platform. It's all about ordering in bulk.
6 – LinkedIn
Finally, if you'd like to hire someone to write for you full-time, you're better off with LinkedIn than with writing assistance platforms. It's a good idea if your blog is big enough to warrant an additional employee (and to bring enough money for you to afford one).
LinkedIn isn't the only place to hire a full-time writer; job boards like Indeed or Monster are also available. But LinkedIn is most recruiters' go-to place, so it makes sense for you to start with it.
So, Which Writing Service Should You Choose?
Choose the writing service or platform for hiring an article writer based on your current needs and priorities. If you only have a few dollars to spare and want to order just a few articles, freelance marketplaces akin to Upwork or Fiverr are your best bet. Be careful when choosing the writer, though. Only some people there are as competent as they claim to be.
If you prioritize quality but want to avoid breaking the bank, go with Skillhub. It has the best quality-price ratio. Draft is a pricier option, but the quality you'll get from its writers is also excellent. Finally, if SEO matters to you the most in the content, consider WordAgents. As you can see, there's no shortage of options. No matter what you're looking for, you'll find it.
---