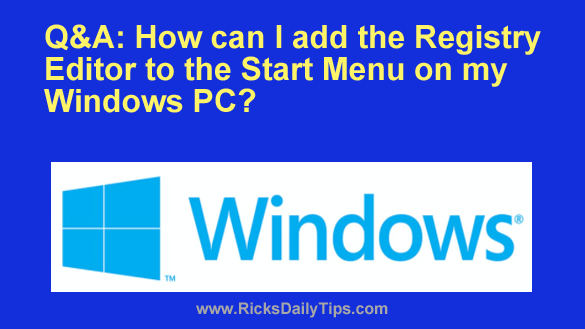 Question from Kyle:  When my computer was running Windows 7 I had an icon for the Registry Editor (Regedit) on my Start Menu.
But after I updated my computer to Windows 10 I noticed that it's no longer there.
Can you tell me how to get it back? 
A lot of your tips involve tweaking the Registry and it's really convenient having that icon on the Start menu.
Rick's answer: Kyle, you can easily add an icon for the Registry Editor to the Start menu. And like you said, it's quite handy having it on there when you frequently make changes to the Registry.
Luckily, it's even easier to do this with Windows 10 (and Windows 11) than it was with Windows 7. This short video shows how.
Note: You can watch this video at full screen by clicking the little "square" icon in the lower-right corner of the video after it begins playing.
If you prefer following written instructions, here you go:
1 – Click the Start button and type the letters reg. You should now see a list of search results with Registry Editor highlighted.
2 – Right-click on Registry Editor, then click Pin to Start.
That's all there is to it. The Start Menu should now have a brand new tile titled Registry Editor. From now on you'll be able to launch that powerful tool simply by clicking that tile, and that's by far the fastest way to launch it.
And by the way, you can add most any Windows tool, setting or app to the Start menu using the same procedure.
If you can find it using the search tool you'll probably be able to right-click on it and select Pin to Start.
I hope this helps, Kyle. Good luck!
Bonus tip #1: This post explains how to back up and restore the Windows Registry.
---