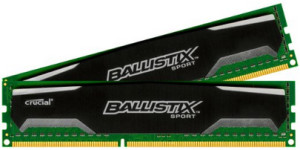 Question from Seth P.:  I need help with a RAM upgrade issue, Rick.
My computer came with 4GB of RAM already installed (two 2GB sticks). It has  two empty RAM slots open.
I bought two 8GB RAM sticks and installed them in the empty slots.
When I try to start up the PC with the new RAM sticks installed, I hear a beeping sound and an error message comes up on the screen.
If I remove the new RAM sticks and leave the old sticks installed the computer boots up OK.
What can be causing the computer not to boot up with the new RAM sticks installed? Thanks.
Rick's answer:  Seth, there are several possible reasons why the new RAM you purchased isn't working in your computer.
Without knowing the specific model of your PC or motherboard, the best I can do is list the most likely possibilities and let you approach the problem from there.
Here are the three most likely reasons why your PC won't work with your new RAM modules:
1 – Your PC/motherboard might not support 8GB RAM sticks and/or it doesn't support the total amount of RAM that you installed.
Every computer has a physical limit to the total amount of RAM that it can accept as well as the maximum size of each installed RAM module. There is a very strong possibility that your PC simply cannot handle 20GB of RAM and/or 8GB memory modules.
2 – The new RAM modules aren't properly seated in the motherboard's RAM slots. If you fail to get them them firmly seated in the slots the edge connectors won't mate up correctly, and that prevent the motherboard from properly communicating with the RAM.
3 – The RAM modules you purchased are compatible with your PC, but they are defective. Although RAM is typically quite reliable, bad modules do make their way onto store shelves on occasion.
If I were you, this is what I would do to troubleshoot your RAM issue:
1 – Remove the RAM that came pre-installed in your PC and install only ONE of the new RAM sticks. Make sure the RAM module slides completely into the slot and the retaining clips snap into the proper position to hold the RAM in place.
If the PC fails to boot up as before, you'll know the RAis M modules you purchased simply aren't compatible with your machine. Return the new RAM for a refund, then continue with step two below.
If the PC does boot up and recognizes the entire 8GB of RAM, you'll know that the RAM modules are compatible with the PC and the PC can handle at least 8GB of RAM.
Try shutting the computer down and installing the second RAM module along with the first one.
If the computer fails to start up and recognize the entire 16GB of RAM, you'll know that it cannot accept that much total RAM. If that turns out to be the case, I recommend removing the second module and simply running your PC with 8GB of RAM. That's all you really need anyway unless you're wanting to do some serious gaming.
2 – If there's any doubt about what kind of RAM your machine requires and how much it can support, run the Crucial System Scanner tool over at Crucial.com to find out.
Crucial's System Scanner will make an inventory of the installed RAM and tell you exactly how much new RAM you can install in each open slot and exactly which type of RAM you need to purchase and install.
You can take the information provided by the System Scanner tool and purchase your new RAM from your retailer of choice (or simply purchase it directly from Crucial).
I hope this helps Seth. Good luck!
Update from Seth: I ran the System Scanner you recommended on my computer and found out that it only supports a total of 8GB of RAM. I also found out that the largest RAM sticks it can take are 4GB sticks.
I sent the two 8GB sticks back and ordered two new 4GB sticks in their place. When they arrive I'll just remove to the two 2GB sticks and max out the RAM at 8GB.
Thanks for your help in figuring out what the problem was. I really appreciate the work you do on your site!
Bonus tip #1: This post explains how to check your PC's system RAM to ensure that it's working properly.
Bonus tip #2: Want to make sure you never miss one of my tips? Click here to join my Rick's Tech Tips Facebook Group!
---
Do you have a tech question of your own for Rick? Click here and send it in!
If you found this post useful, would you mind helping me out by sharing it? Just click one of the handy social media sharing buttons below.