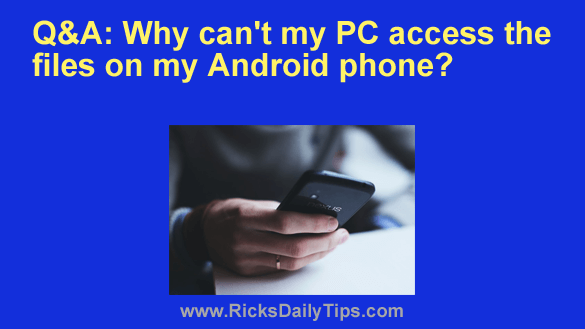 Question from Alex:  I used to be able to plug my Android phone into my Windows laptop and copy the photos from the phone to the computer.
However, I tried that this morning and when I opened the phone in File Explorer it said "This folder is empty."
I haven't changed any settings on either the laptop or the phone so I don't know why File Explorer can't see the photos that are on the phone (there are tons of them).
What am I missing here? 
Rick's answer:  Alex, Google released a fairly recent update to Android that blocks the transfer of data whenever the phone is plugged into a charger.
In case you're wondering how that's relevant in this situation, Android phones consider any unknown device that's supplying power to the phone to be a charger – and that includes your computer.
Why did they make this change? Well, it turn out they had a very good reason…
A while back, hackers figured out a way to use a charger to steal the data from Android phones.
Recognizing an opportunity for mischief, they quickly devised a plan to start leaving chargers in restaurants, libraries, airports and other public places for the patrons of those establishments to use to charge their phones.
Unbeknownst to those patrons, all the while their phones were charging the chargers were stealing the sensitive data and files from the phones while their batteries were in the process of recharging.
Hence Google's decision to start blocking data transfer by default.
That's the bad news. But there is also good news…
You can easily change a setting in your phone that will re-enable data transfer so you can copy your phone's files to your computer. Here's how:
1 – Open your phone's Settings app by tapping the Settings icon (it looks like a "gear").
2 – Tap inside the Search Settings tool and type the letters usb, then select USB Preferences from the list of search results.
3 – In the "Use USB For" section, select File Transfer.
4 – Tap the Back button (i.e. the left-facing arrow) until you have exited the Settings app.
That's all there is to it. From now on when you open your phone in File Explorer you should be able to access the photos and other files on the phone just fine.
Important: If you know you'll only be plugging your phone into chargers (and computers) that you control you can leave that setting configured to allow file transfers.
However, if you think you might need to use chargers (or computers) supplied by a third party I strongly recommend that you change that setting back to No data transfer as soon as you finish transferring the photos to your PC.
I hope this helps, Alex. Good luck!
Update from Alex: That helped a lot, Rick. Thanks for helping me figure this out.
---