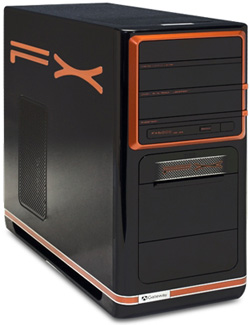 Question from Gail T.:  Hi Rick. I have a Gateway FX-6800-03h desktop computer that I've owned for over 4 years with no problems whatsoever. It has Windows 7 on it, and last Christmas my brother upgraded it to 12 GB of RAM and added a 2 TB hard drive for me as a gift.
I love this computer but now I have a big problem! I recently went out of town for a few days and when I got back I couldn't get Windows to load. All it does when I press the power button is give one long, continuous beep and nothing ever shows up on the screen.
Please, please, please tell me this is a simple fix? I can't really afford a new computer right now. Thanks in advance!
Rick's answer:  Gail, I don't want to build your hopes up too much, but I believe this is an easily fixable memory problem. I'm guessing here, but I believe that when your brother installed the new memory sticks he didn't get one or more of them seated into the slot(s) properly.
What I would do is carefully remove all the memory sticks and re-install them to see if the problem goes away (I strongly recommend using an anti-static wrist strap). Be sure to grasp the modules by the edges in such a way that you won't come into contact with any components or circuit traces. While the slots are empty I would also blow any dust out of them with a can of compressed air. Carefully place them back into the slots and see if the computer is back to normal. I really think it will be.
If the problem persists after re-installing the memory sticks, one or more of them is probably defective. Try removing all of them except one and then pressing the power button. If the PC boots up, shut it down, then install another module and see if it starts up ok. If so, repeat this process for the remaining memory sticks. If the system refuses to boot after installing a module, you will have found the bad one. Simply remove it and you should be good to go.
If one or more of the memory sticks does turn out to be defective, I recommend running a memory test on the remaining modules for good measure. Some memory problems won't prevent a system from booting, but they'll cause all kinds of problems while the PC is running. Memtest86+ is a great free memory disagnostic tool that I use and it works extremely well. You can read more about it right here. Good luck!
Update from Gail: WOW, Rick! Thanks so much for your help! I removed and re-installed the memory chips like you suggested and it started right up! I downloaded Memtest86+ and ran it and there were no problems found! You saved me a ton of money and I really appreciate it!!!
---
Do you have a tech question of your own for Rick? Click here and send it in!