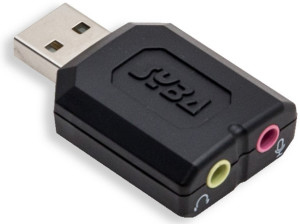 Question from Trevor H.:  The integrated sound has gone out on my HP Pavilion Slimline s5680d desktop computer's motherboard (model # MSI MS-7613).
Can you recommend a cheap replacement motherboard that'll fit inside this computer's case and work with its power supply?
I know you're probably thinking I'd be better off just buying a new computer, and I know you're probably right. But I really like this one. I just can't use it without sound. I'd buy a sound card for it but all the slots are full.
Rick's answer:  Actually Trevor, I don't recommend that you buy a new computer, and I don't recommend that you buy a replacement motherboard either.
What I do recommend is that you buy a USB stereo sound adapter that you can simply plug into an open USB port. This one (#ad) should work quite nicely, and it's very inexpensive. Amazon has sold thousands of this particular adapter and it has tons of excellent user reviews.
This would be a very cheap way to get your PC's sound working again without spending a lot of money that (in my opinion) would be better spent on a faster, more capable machine.
Hopefully you'll get another year or two of use out of your beloved Slimline s5680d, but when and if something else on the motherboard goes belly-up I would recommend that you just go ahead and buy a new computer at that point.
I hope this helps Trevor. Good luck!
Update from Trevor:  Works for me Rick! Thanks for your help.
Bonus tip: Want to make sure you never miss one of my tips? Click here to join my Rick's Tech Tips Facebook Group!
---
Do you have a tech question of your own for Rick? Click here and send it in!
If you found this post useful, would you mind helping me out by sharing it? Just click one of the handy social media sharing buttons below.