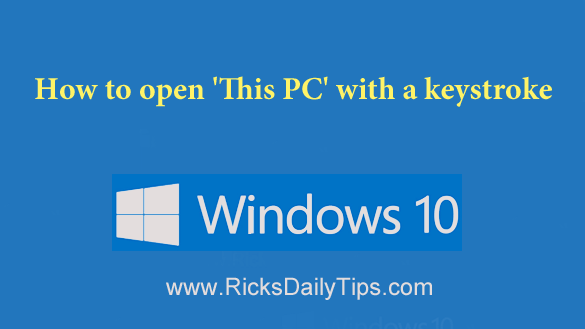 Click here to sign up for my free Rick's Tech Tips Newsletter!
---
The Windows Desktop in every version of Microsoft Windows since Win 95 has included a "My Computer" icon which opened the handy "Windows Explorer" window when you clicked on it.
Windows 8.1 and Windows 10 still have the "My Computer" icon, but it's now called "This PC". And "Windows Explorer" is now called "File Explorer".
But even though their names have changed, these features still work in much the same way, and they are still two of the most-used components of Windows.
In fact, most Windows users take advantage of the File Explorer tool every day.
If you're unfamiliar with the "This PC" icon, this is what it looks like: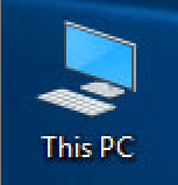 Just double-click on that icon and a File Explorer window will open right up.
But there's also a super-fast way to open File Explorer without even touching the mouse…
Simply press the Windows+E key combination!
If you prefer the old-style way of opening it by clicking on "This PC" icon, you certainly can as long as the "This PC" icon is visible on the Desktop.
But what if isn't? Well, you can easily put it on there.
Follow these steps to restore the "This PC" icon in Windows 10:
1 – Right-click on an empty area of the Desktop, then select Personalize from the drop-down menu.
2 – Click the Themes link in the left-hand column.
3 – Click Desktop icon settings.
4 – Check the box beside Computer in the window that pops up. You can choose to either display or hide any of the icons listed inside this window simply by checking or unchecking them.
5 – Click Ok.
That's all there is to it. Now you know how to open "File Explorer" with a simple keystroke combination!
---
Cick here to ask me a tech question.