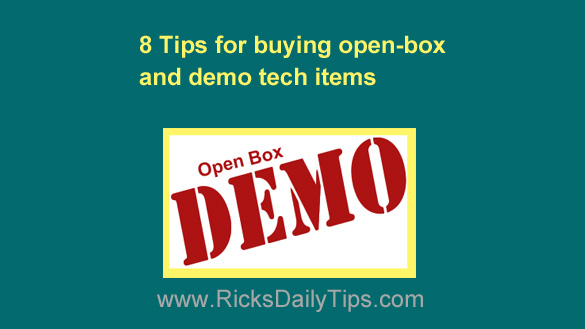 Have you ever walked through your local electronics retailer's showroom and seen open-box computers, smart phones and other tech items on sale at greatly reduced prices?
I have, and I'm guessing that you have too.
You really can save some serious money by buying open-box and demo tech products, but there are a few things you need to consider before laying out your hard-earned money for one of them.
With that in mind, here are 8 tips for getting a truly good deal on open-box and demo tech products: 
1 – Always be friendly towards the salesperson(s) and manager(s) you're dealing with. They're a lot more likely to see things your way and grant your requests if you engage them in a polite and respectful manner.
2 – Even as you're charming their socks off, also be firm in your requests and demands. Politely let them know that you are an informed consumer and that you know what you're willing to do to make the deal happen, as well as what you consider to be non-negotiable.
3 – Insist on checking the item out in the same manner that you'll be using it, not just by interacting with the demo program.
Ask the salesperson to boot the computer into the installed operating system and put it through its paces.
Make sure it will establish and maintain a Wi-Fi connection, visit websites with the installed browser(s), and run all the usual programs and apps without blue-screening, freezing or crashing. Ditto for smart phones and other devices.
4 – Launch the machine's native text editor (NotePad for Windows – TextEdit for Macs) and press every key on the keyboard to make sure they all function correctly. (Be sure to check the function keys and specialty keys as well as the letters and number keys!)
If one or more keys doesn't work as it should, ask them to throw in a new keyboard. DON'T let them repair the bad one unless the device is a laptop.
5 – If the item is a notebook computer, smart phone or any other device that uses a rechargeable battery, ask them to either install a new battery for you at no charge or discount the item further to cover the cost of a new battery.
When these devices sit on display for extended periods of time, their batteries catch all kinds of abuse and overuse. Therefore, always assume that a demo item's battery is either bad already or well on its way to going bad.
6 – Ask to have the operating system re-installed from scratch to restore all the files and settings back to their factory defaults.
Even though you're buying an open-box/demo item, it's still new and the software needs to be in factory condition when you take it home.
7 – Ask them to discount the item even further than what's listed on the sales sticker. Never assume that the displayed price is the rock bottom price on any tech item, especially on open-box and demo units.
If the item you're looking at has been sitting on the shelf collecting dust for a while, you just might save another 10% – 20%!
8 – Be willing to walk away if you just can't get the cooperation you need in order to make the deal work for you. The store you're shopping at has plenty of competition, both locally and online. Take advantage of that fact in every way you can.
That's all there is to it. Now you know how to shop for open box and demo electronic items to ensure that you get a like-new product at the lowest possible price.
Bonus tip #1: You can also save some cash by buying quality refurbished computers and mobile devices as well. Click here for more info on that.
Bonus tip #2: Want to make sure you never miss one of my tips? It's easy! Just…
Click here to sign up for my free Rick's Daily Tips Email Newsletter!
---
Would you like to ask Rick a tech question? If so, click here and send it in!
If you found this post useful, would you mind helping me out by sharing it? Just click one of the handy social media sharing buttons below. Thanks a bunch!