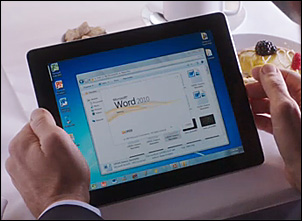 Have you ever thought it would be nice to have a Windows Desktop on your iPad or Android tablet? How about the ability to create and edit Microsoft Word, Excel, and Powerpoint files?
Onlive Desktop is a free download/cloud-based service that allows you to mimic the Windows experience right on your tablet, at speeds that make it hard to believe that you're actually working in the cloud instead of natively on your tablet. Also included is 2GB of cloud storage.
The basic Onlive Desktop service includes all the awesome functionality mentioned above, and it's 100% free! They also offer a paid "Plus" version for $4.95/month that adds cloud-based accelerated web browsing with full Adobe Flash support. Yes, that's right. You can visit Flash-based websites on your iPad or Android tablet!
If you love your non-Microsoft tablet but need free access to a fast, easy to use Windows environment, I recommend giving Onlive Desktop a try. You can find out more about it and download the free app at http://desktop.onlive.com.