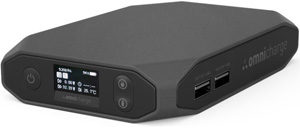 I test and review a lot of portable power banks on this blog, and most of them turn out to be pretty good. Some are even great.
But every now and then I find one that simply blows me away. And I have just found another one. 
The Omnicharge is quite simply the most amazing external battery pack / portable power bank I have ever used.
Although it's quite compact, this device will charge your smart phone or tablet multiple times, and it will even charge your laptop via its built-in DC/AC power inverter.
What's more, it can also power your small electrical appliances such as fans, lamps or most anything else doesn't draw a ton of current.
Here's a larger view of the device that shows the AC power receptacle:

The first thing I noticed when I unboxed my Omnicharge was that the box included a second, smaller device.
At first I thought they must have included two units for me to review, but then I noticed that the second device is actually a wall charger for the Omnicharge.
This blew me away since most portable power banks include a USB charging cable, a tiny manual, and nothing else. But this device comes with its own quick-charger! And by the way, you can use your Omnicharge to charge and power other devices at the same time the Omincharge itself is charging!
The second thing I noticed was the weight of this thing. While about the size of an extra-thick smart phone, it's surprisingly heavy for its size. This is no featherweight power bank that you can slip into your shirt pocket and carry around all day. A pants pocket, yet. But not a shirt pocket.
But there's a reason for that. The extra weight is due to its multiple Panasonic Lithium Ion 3,400mAh batteries. Those puppies can really store a charge, and the device's smart CPU-driven circuitry helps you make maximum effective use of it.
This photo shows everything that comes in the box: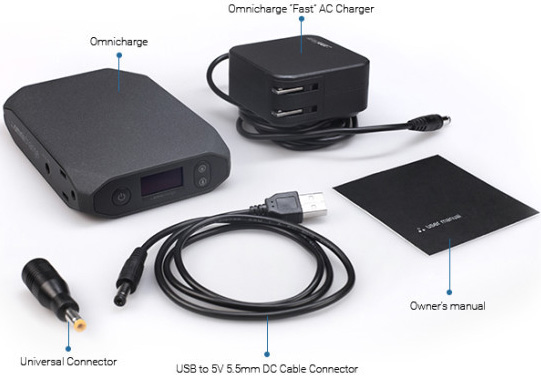 As you can see, it comes with everything you need to keep all of your portable devices (both DC and AC) charged and powered up.
After testing it thoroughly, I can tell you that this is one amazing device. Take a look at this short video and you'll see why I say that:
Pretty amazing, huh?
The Omnicharge is available in two sizes, depending on your needs. The smaller size provides a whopping 13,600mAh of charging power while the larger one provides almost twice that amount at 20,400mAh!
I've used portable power banks that can charge multiple devices multiple times. I've used power inverters that can power small appliances. In fact, I've used devices similar to the Omnicharge that can do both. But I have seen one this compact before.
Bottom line: Aside from the aforementioned hefty weight, there isn't really anything about the Omnicharge that I didn't find amazing.
I'm constantly on the lookout for the perfect external battery back / portable power bank. I've tested a bunch of them, and I doubt if I'll ever find one that's truly perfect. But I can tell you that the Omnicharge is about the closest thing to perfect that I have found to date.
Click here to read more about the Omnicharge at IndieGoGo.