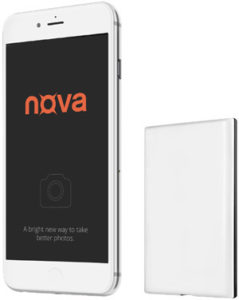 The most recent iPhones are notorious for taking outstanding photos that rival those taken by expensive point-and-shoot cameras. And I must say that I have seen some pretty spectacular images that were captured with them.
But as most any professional photographer will tell you, it's difficult to take professional quality photos in low-light situations using just the camera's built-in flash unit. To get a truly magnificent image under those conditions, one must use an off-camera flash.
Photographers have been using off-camera flash units with their expensive DSLR and high-end point and shoot cameras for years, and now iPhone users have that option as well.
The awesome Nova Off-Camera Wireless Flash for iPhone will provide that all-important flash of supplemental light to give your iPhone photos a crisp and bright professional look. 
This Nova external flash unit syncs to your phone's built-in flash via a free app, and the app's built-in photo editor will allow you to make several handy adjustments to your photos right in the camera!
Here's a short introductory video that shows the Nova external flash unit in action:
The flash unit itself is compact and thin, yet provides all the soft, natural light your phone's camera will need to capture truly amazing images under most any lighting situation.
Bottom line: If you take your iPhone photography seriously, you owe it to yourself to check out the Nova Off-Camera Wireless Flash for iPhone.
Click here to read more about this awesome Nova external flash unit at Amazon.
Note: The links in this post are affiliate links.