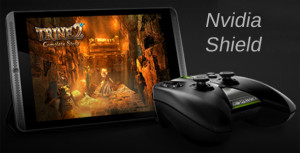 Did you purchase an Nvidia Shield tablet between July 2014 and July 2015? If so, it might have just been recalled.
The tablets affected by the recall contain defective batteries that can potentially over-heat and cause a fire.
83,000 of the recalled tablets were sold in the United States. The remaining 5,000 were sold in Canada.
Nvidia is asking everyone who owns a Shield tablet that was purchased during the time-frame mentioned above to follow the steps below to determine if your unit is subject to the recall: 
1 – Ensure that your tablet is loaded with the latest firmware by tapping:
Apps>Settings>About Tablet>System Updates
2 – If the firmware is stamped with any date before July 1, 2015, update the firmware to the latest version.
3 – Return to the Home Screen, then tap:
Settings>About Tablet>Status
4 – Look in the "Under the Battery" section for one of these codes:
– Y01
– B01
If you see the code Y01 your tablet has the defective battery and it falls under the recall.
If your tablet has been recalled, Nvidia requests that you visit this page to learn how to return the tablet and request a free replacement.