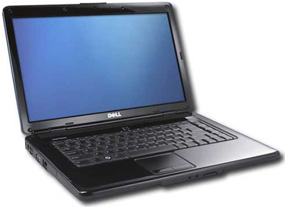 Question from David G.:  I have a Dell Inspiron 1545 laptop that my sister accidentally sat on and broke the screen.
The computer still worked fine when it was plugged into an external monitor though, so I removed the lid to get it out of the way so I could use it as a desktop PC.
The problem is ever since the screen was removed I can't connect to the Internet with the built-in Wi-Fi.
I reinstalled the drivers for the Wi-Fi adapter and checked everything I know to check, but it just won't connect even though I can see the network in the list of available networks. Can you tell me what I need to do to fix it?
Rick's answer:  David, the antenna for the Inspiron 1545's Wi-Fi adapter is located inside the lid behind the screen. When you removed the lid, you also removed the antenna.
And without an antenna, the Wi-Fi signal is simply too weak to connect.
You basically have three options:
1 – Re-connect the lid and the associated cables to the laptop, thereby reattaching the antenna.
2 – Plug the laptop directly into your router with an Ethernet cable.
3 – Buy an inexpensive USB Wi-Fi adapter and plug it into an unused USB port on the laptop. They are very affordable these days. In fact, the one I use and recommend is actually quite cheap. Click here (#ad) to check it out.
I hope this helps David. Good luck!
If you like this post you can get my latest tips in my weekly RicksDailyTips Email Newsletter. Sign up for free at the bottom of this page!
---
Do you have a tech question of your own for Rick? Click here and send it in!