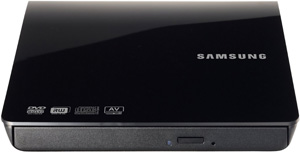 Question from Linda Q.:  I've been shopping for a new laptop Rick, and I've noticed that most of the better ones on the market today don't come with an optical drive.
I have hundreds of CDs and DVDs that are filled with photos that I need to access on occasion so my new laptop needs to have a DVD drive.
I know I can buy an external DVD drive, but I'd prefer to have it built-in.
Why on earth are they making laptops without optical drives? Don't they realize that a lot of us still use them?
Rick's answer:  I certainly understand your frustration over the missing optical drives Linda, but there are several reasons why they are being left out of new laptops these days:
1 – Most music, movies and computer software is being delivered to the consumer over the Internet instead of on discs these days, making optical drives completely unnecessary for younger consumers who don't own a library of optical media.
2 – Inexpensive USB hard drives and online backup services make it easy and convenient to back up our computers without having to deal with a stack of blank optical discs.
3 – Cloud storage and cloud backup services make sharing photos and other files with our friends a lot faster and easier than having to burn them onto a disc.
Local backups (which I strongly recommend to augment your cloud-based backups) can be created using external USB hard drives. (#ad)
4 – Leaving out the optical drive lets the manufacturers build laptops that are smaller, lighter and less expensive than they would have to be if the drive was included.
Luckily, an external USB optical drive
(#ad) can be purchased for as little as $15 for those of us that still use optical discs on occasion.
Now for the good news…
You can still buy a laptop that does have an internal optical drive. They are getting harder to find every day, but they are still available.
As of this writing Amazon
(#ad) still has a great selection to choose from. You'll just need to sort through the options and choose one of your liking.
I hope this helps Linda. I wish you the best of luck!
Bonus tip #1: This post explains how to convert a spare internal hard drive or SSD into an external USB drive.
Bonus tip #2: Want to make sure you never miss one of my tips? Click here to join my Rick's Tech Tips Facebook Group!
---
Do you have a tech question of your own for Rick? Click here and send it in!
If you found this post useful, would you mind helping me out by sharing it? Just click one of the handy social media sharing buttons below.