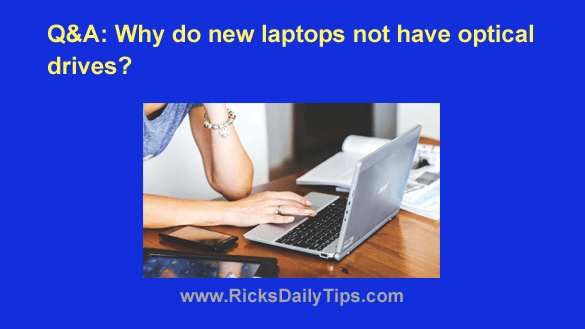 Note: The links in this post are affiliate links.
Question from Linda:  I'm looking for a new laptop Rick and I've noticed that most of the new ones on the market today don't come with an optical drive.
I have hundreds of CDs and DVDs that are filled with photos that I need to access on occasion so my new laptop needs to have a DVD drive.
I know I can buy an external DVD drive, but I'd prefer to have it built-in.
Why on earth are they making laptops without optical drives? Don't they realize that a lot of us still use them?
Rick's answer:  I certainly understand your frustration over the missing optical drives Linda, but there are several reasons why they are being left out of new laptops these days:
1 – Most music, movies and computer software is being delivered to the consumer over the Internet instead of on discs these days, making optical drives completely unnecessary for younger consumers who don't own a library of optical media.
2 – Inexpensive external USB hard drives and online storage services such as Google Drive and iCloud make it easy and convenient to back up our computers without having to deal with a stack of blank optical discs.
3 – Social media sites such as Facebook and Instagram make sharing photos and other files with our friends a lot faster and easier than having to burn them onto a disc and then finding a fast and economical way to distribute them.
4 – Omitting the optical drive lets the computer manufacturers build laptops that are smaller, lighter and less expensive than they would have to be if the drive was included.
As you mentioned earlier, external USB optical drives
can be purchased for as little as $15 for those of us that still need to use optical discs on occasion.
Now for the good news…
You can still buy a laptop that does have an internal optical drive. They are getting harder to find every day, but they are still available.
As of this writing Amazon
still has several to choose from. You'll just need to carefully read the specifications listed for each model and choose a machine that has an internal optical drive.
I hope this helps, Linda. I wish you the best of luck!
---