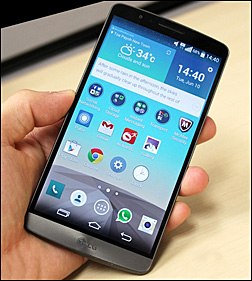 Question from Gina:  Hi Rick. I need help!!! I have an LG G3 phone with 4G-LTE. For the last few days I've been unable to connect to the Internet over the Sprint network.
The phone gives me an error message stating that it's unable to connect to the network. I can make and receive phone calls just fine and I can use the Internet with Wi-Fi. It just won't connect to the Sprint network.
I've checked all the settings and nothing seems to be set incorrectly. Can you tell me how to fix this?
Rick's answer:  Gina, there are a couple of things you can try in order to re-establish a network connection, and both of them are relatively simple tasks.
First, try updating your phone's Profile. Here's how:
1 – Tap the Apps icon, then tap the Settings icon.
2 – Scroll all the way to the very bottom of the "Settings" screen, then tap About phone.
3 – Tap System updates.
4 – Tap Update profile. After the Profile update is complete, try accessing the Internet via the Sprint network. If your phone is able to connect and you have a working Internet connection, you're done. If not, continue on with the rest of this tip…
Since the above procedure didn't work, try performing a Soft Reset on your LG G3. Here's how:
1 – Power down the phone. Press and hold the Power button until the "Phone options" menu pops up, then tap Power off.
2 – Carefully remove the back cover from your phone. The short video below shows how to do it:
3 – Remove the battery from the phone and wait a full 30 seconds, then re-install the battery.
4 – Press the Power button to power the phone back up, then check to see if you have Network/Internet connectivity. If you do, you're finished. If not, you'll probably need to take your phone in to the nearest Sprint store and ask for assistance.
Hopefully one of the procedures detailed above will help get your LG G3 back online with the Sprint network. Good luck!
Update from Gina: Thanks a lot Rick! Removing the battery for 30 seconds fixed the problem. I appreciate your help.
---
Do you have a tech question of your own for Rick? Click here and send it in!