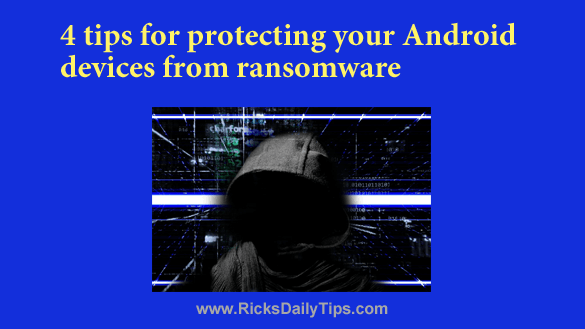 Click here to sign up for my free Rick's Tech Tips Newsletter!
---
Until recently Windows users have been the prime targets for ransomware attacks, but now the scammers are trying to lock up your smartphone and tablet as well.
In fact, a huge wave of Android ransomware is spreading around the globe as we speak.
My phone has tons of photos and other irreplaceable files stored on it, and I'm guessing yours does too. Can you imagine losing every last piece of your digital life to a ransomware attack?
Luckily, there are several things you can do to protect your phone and tablet and the information stored on them from this growing threat.
Note: While Android devices are at great risk of getting hit with a ransomware attack, iPhones and iPads are pretty much in the clear right now as far as ransomware goes. This post has more info on that.
1 – The old sports adage "The best defense is a great offense" is also true in the current era of mobile devices. That's why keeping your phone and tablet backed up to the cloud should be part of your regular routine.
Always having a recent backup on hand will make life a lot easier for you if your device ever gets encrypted by ransomware and you need to restore the lost data. And you will indeed have to restore it from a backup since paying ransom to a scammer is such an expensive, dangerous and risky endeavor.
This post explains how to back up your Android phone or tablet.
2 – These days your Android devices needs a quality anti-malware app just as much as your computer does. There are several great apps to choose from, but I use and recommend AVG for Android.
This fantastic app work great, it's easy to install and use and it's free for personal use.
3 – Be extremely cautious about opening links in emails and text messages and about visiting unfamiliar websites.
Here's a very simple rule that will never let you down: Unless you're absolutely certain that a link or website is legitimate, avoid it like the plague.
4 – Never install an app unless you are absolutely sure it is both authentic and safe.
Be wary of "copycat" apps that mimic popular apps. If you see two or more apps with the same name in the app store, be sure to verify which of the apps is the one you really want to install.
And now, one last note about apps: Never install an app from a third-party website. If an app and its underlying service are legit you should be able to find it in the Google Play Store.
Bottom line: Ransomware has become one of the most serious threats to Android phones and the data stored on them. I recommend that you take precautions today to ensure that yours is always protected!
---
Click here to ask me a tech question.