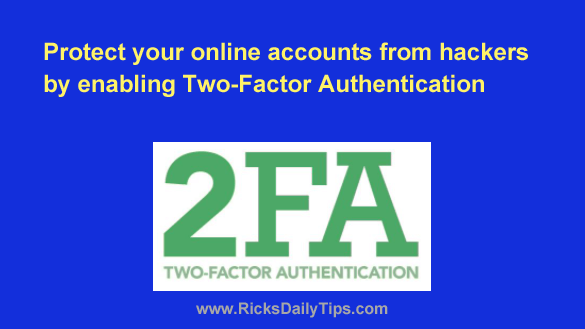 As you probably know, hackers are breaking into web services and online accounts virtually every day.
And unfortunately, the methods they're using to do it are getting ever more sophisticated all the time.
That's why you need to do everything you can to lock down your own accounts as much as possible.
With all the hacks in the news lately I thought it might be a good time to discuss a great way to avoid having to deal with a hacked account.
Below I'll explain the benefits of protecting your online accounts with Two-Factor Authentication (2FA). Then I'll explain how get 2FA enabled on all of your own accounts.
Of course the first line of defense is to choose a strong password, but there's an additional step you can take to prevent someone from breaking into your online accounts as well.
While no security measure is 100% fool-proof, this one is about as close as it gets.
The additional step I'm referring to is called "Two-Factor Authentication", and it works by sending a unique one-use numeric code to your mobile phone via either a text message or a security app every time you try to log in to one of your accounts.
Once Two-Factor Authentication has been enabled on an account, the only way for any person (even you) to gain access to that account is to enter both your password AND the code that was sent to your phone.
That means a hacker would need possession of your mobile phone in order to log in to your account, even if he/she knows the password.
As you can imagine, Two-Factor Authentication really is a very effective tool for locking down all of your online accounts.
Luckily, most popular online services now support Two-Factor Authentication.
To find out how to enable it on an account you use simply search Google for the name of the service plus the phrase enable Two-Factor Authentication.
Alternatively, you can simply go through the settings screen(s) for each service and look for an "Enable Two-Factor Authentication" section. You'll usually find it in a section labeled "Security" or something similar.
---