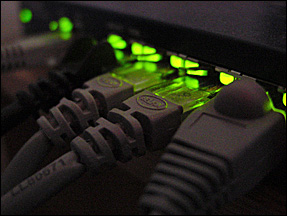 Question from Kevin:  I need some advice about networking Rick.
I have 3 computers that I'm planning to place in my bedroom and my two sons' rooms. We're going to use these computers for just one thing, and that's for playing games over a private LAN.
After doing some research I went to Best Buy and bought a 5 port switch and three 50ft Ethernet cables to run up into the attic and then down into each of the rooms.
These computers will NOT be connected to a modem, only to each other through the switch.
Now, my question – Since there will be no Internet access we won't be able to update our virus software. Will that be a big problem or do your recommend going wireless and connecting the machines through our router so they'll have Internet access?
I didn't think of the virus issue until I had already bought the switch and cables, but I can return them if I need to. Thanks in advance for your help.
Rick's answer:  Kevin, your computers will be just fine without access to the Internet. In fact, they'll be fine without antivirus software running at all since they won't be connected to the Internet and all the threats that reside on it.
Of course the above is assuming that the PC's are virus-free in the first place and the games you plan to install on them are as well.
If the three bedrooms are close together, I'd recommend returning the switch and cables and buying a decent wireless router instead. You can set up a 3 station wireless network and it'll run just fine without a modem connected. That way you won't have to drill any holes in your ceilings or run any cables.
Once your wireless network is up and running, this post will help ensure that all three PCs have fast wireless connections.
Bottom line: Computers that aren't connected to the Internet are at a very low risk of catching a virus (unless you insert an infected thumb drive into one of them!).
Update from Kevin:  I guess you could call this a "Duh" moment Rick. I should have realized that. I'll take your advice and return the switch and cables and buy a wireless router instead. Thanks again for your help.
Bonus tip: This inexpensive, yet very capable router would be perfect for your gaming LAN. Check it out!
---
Do you have a tech question of your own for Rick? Click here and send it in!
If you think your friends would like this post, I'd love you to share it! Thanks a bunch!