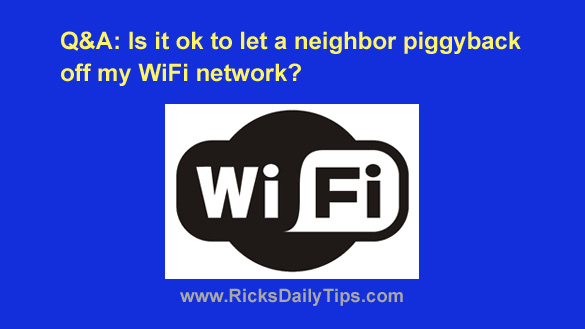 Question from Mallorie:  I need some advice Rick, and it's sort of a touchy situation.
We live in a duplex and our neighbor has a 14 year old son who bought a Straight Talk phone from my daughter.
The thing is she didn't reset the phone before she sold it to him because he said he'd like to just take over her phone number, and she said that would be fine.
This phone still automatically connects to our WiFi network, and I know for a fact that he uses our WiFi a lot because he told my daughter that he does.
My question is do you think he could cause us any problems by piggybacking off of our wireless network? 
If the answer is no I don't have any objections to him using it because his family doesn't have an Internet connection.
Rick's answer:  Mallorie, the young man who bought your daughter's phone could potentially cause you and/or your daughter trouble in several ways by piggybacking off your Internet connection.
First, if your Internet service is metered and he streams a lot of videos, his added data usage could possibly push you over the monthly limit resulting in you receiving a huge Internet bill at some point in the future.
Another possible issue could arise if his phone ever gobbles up a lot of bandwidth at the same time you're trying to watch Netflix or some other streaming movie service. Your movie could sputter at times, and if the situation gets bad enough it could interrupt your viewing pleasure altogether.
And now for the most serious potential problem of all…
If your young neighbor ever decides to download child pornography onto his phone or uses it for some other illegal activity (I'm certainly not implying that he will, just stating a hypothetical), the authorities will come knocking on YOUR door instead of the neighbors' when they get around to tracing the perpetrator's IP address.
Obviously, that would not be a good thing.
Of course these are all worst-case scenarios, and there's a great chance that the young man next door won't cause you any problems at all. But the chance that he might is very real, and the consequences could potentially be quite serious.
And here's another thing to consider: If your daughter had any personal text messages, voice messages or sensitive photos on her phone, the young man who now owns it also has access to all of things unless she took the time to delete them before giving him possession of the phone. Just sayin'…
My advice: Change your WiFi password ASAP and let your neighbors invest in an Internet connection and WiFi network of their own.
I also suggest asking your daughter if she wiped all of her personal information and photos from the phone before selling it. If not, you might want to ask the neighbor to let her do it right now. There's no guarantee he'll agree to do it, but it's worth a shot.
I hope this helps, Mallorie. Good luck!
Bonus tip: This post discusses a real-world example of why I made the recommendations I made above.
---