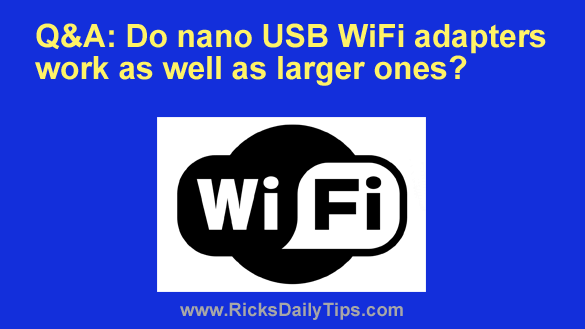 Note: The links in this post are affiliate links.
Question from Alexis:  Hi, Rick. I need to buy a USB WiFi adapter for my computer and I'd really like to use one of the small "nano" adapters like this one.
I really like those because they don't stick out from the computer very much. I'm always afraid I'll catch it on something and break it.
The thing is, I've heard that the small size might keep it from working as well as a full size adapter that has a long antenna. Is that something I need to worry about? 
The WiFi signal in my basement office isn't super strong, but it's definitely usable. I just need to make sure I'll be able to establish and maintain a good connection.
Thanks in advance for your advice.
Rick's answer:  Alexis, the short answer to your question is no, the nano devices don't work as well as their larger counterparts, primarily because the internal antenna is so small.
My own personal experience has shown that nano size USB adapters work well in areas where there's a strong WiFi signal, but I'm just not sure you'd be happy with one under the conditions you have described.
I know you'd prefer to use a nano adapter, and I prefer them as well for the same reason you stated above.
But I honestly believe you'd be better off getting a larger one with an external antenna for use in your basement. Just be careful not to lose it or damage it in some way.
If you'd like a recommendation, this is the one I use. I've had it for quite a while, and it works great.
I hope this helps, Alexis. Good luck!
Update from Alexis:  That helps a lot. Thank you.
---