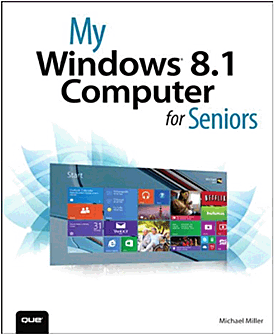 Making the transition from an older version of Windows to Windows 8.1 is no easy task.
While today's youngsters have the advantage of growing up in the age of modern digital technology, gadgets galore and the Internet, the task of learning a new operating system can be a bit daunting if you're a little older.
It's certainly true that today's seniors are more tech savvy than ever, but it sometimes helps to get a little boost when it comes to learning something new in the computer world. And a little boost is likely all that most folks will really need.
With that in mind, a great book titled My Windows 8.1 Computer for Seniors (#ad) is just what the doctor ordered for learning how to use Windows 8.1!
Most computer books are hard to follow, and the illustrations and images can be difficult to see for those of us with less than perfect eyesight. One of the things I like most about this book is how the text is larger than normal and the images are so bright and clear. It's very easy to read and comprehend the simple, easy to follow explanations and tutorials in this book.
When writing My Windows 8.1 Computer for Seniors, author Michael Miller didn't make any assumptions about how much the reader might already know about Windows 8.1. Everything you need to know about navigating through the various screens and using the many tools, settings and apps is explained from A to Z in a clear, concise manner.
Even better, virtually every page is illustrated with a screenshot or photo that helps explain the topic at hand in the most simple of terms. I really like Mr. Miller's writing style. He never talks down to the reader, and he gets his points across in way that's respectful, yet easy to follow and understand.
While this book was written with seniors in mind, it's also a great reference and learning tool for kids and adults of all ages. Windows is Windows regardless of the user's age, and this book explains the ins-and-outs of Windows 8.1 as well as any other that I have read.
Bottom line: If you feel that you could use a good, easy to follow guide to Windows 8.1, My Windows 8.1 Computer for Seniors is an excellent choice in my opinion.
Click here (#ad) to read more about My Windows 8.1 Computer for Seniors at Amazon.