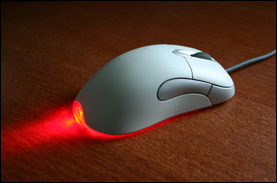 Question from Kelly E.:  I just bought a new computer and there's one thing about it that has me puzzled.
When I shut the computer down (not put it to sleep, but actually shut it down) the little light on the mouse stays lit.
Why is this happening? I've never seen it before. Is there some way to turn it off?
Rick's answer:  Kelly, many newer desktop PCs (and even a few laptops) have a feature that allows your computer to charge the batteries in connected USB devices even when the computer is completely off.
When this feature is present (and enabled) power will be supplied to the USB ports any time the computer is plugged into an electrical outlet. That's why your mouse remains "lit" even when the computer is in "shut down" mode.
This is really nothing to be concerned about since the tiny amount of electricity your mouse uses won't really affect your electric bill in any meaningful way. But that being said, you might be able to turn it off.
You didn't mention the brand and model number of your PC but some models have a UEFI setting that will turn off full-time USB charging and/or enable a "Deep Sleep" mode.
The name of the feature you're looking for varies from manufacturer to manufacturer (and even from model to model) but if your system has it you should be able to easily recognize it when you see it.
Launch the UEFI Settings screen (instructions here) and look for a setting related to "USB charging" or "Deep Sleep". If you find such a setting, disable it.
Once you've changed the setting in the UEFI you'll also need to change a setting in the Windows 10 Control Panel. Here's how:
1 – Press the Windows+S key combination to open a "Search" box.
2 – Type the word control into the Search box, then select Control Panel from the list of search results.
3 – Click Hardware and Sound.
4 – Click Power Options.
5 – Click the Choose what the power buttons do link that's over in the left-hand column.
6 – Click the Change settings that are currently unavailable link.
7 – Uncheck the box beside Turn on fast startup.
8 – Click Save changes.
That's all there is to it. If you were able to find and disable the UEFI setting that allows full-time USB charging and made the required change in the Control Panel your mouse should no longer stay lit up when you shut your computer down.
I hope this helps, Kelly. Good luck!
Update from Kelly:  Thanks for your help, Rick. I found the "Deep Sleep" setting and followed your instructions. Now my mouse goes off when I shut down the computer.
Bonus tip #1: This post explains how to protect your files from catastrophic loss should your hard drive ever fail by creating a System Image Backup.
Bonus tip #2: Want to make sure you never miss one of my tips? Click here to join my Rick's Tech Tips Facebook Group!
If Facebook isn't your cup of tea, I invite you to sign up for my Rick's Daily Tips Daily Update Newsletter.
---
Want to ask Rick a tech question? Click here and send it in!
If you found this post useful, would you mind helping me out by sharing it? Just click one of the handy social media sharing buttons below.