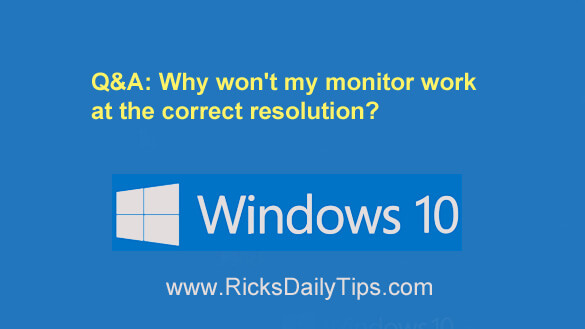 Question from Carol:  My computer (Dell desktop with Windows 10) installed an update a few days ago and after it rebooted the screen was all out of whack.
Everything looks so ugly now. The text is really big and the icons are scattered all over the place.
My monitor is a 23″ Dell S2316M. It's always worked at its maximum resolution of 1920 x 1080 before but the update changed it to 1024 x 768.
The problem is there doesn't seem to be any way to change it back.
How can I fix this? 
Rick's answer:  I'm sorry you're having this issue, Carol. Most Windows Updates usually install without a hitch, but occasionally something will go wrong (especially recently). And that obviously happened in this case.
My guess is the update procedure somehow replaced your monitor's driver with the standard Windows driver.
If so, you should be able to install the latest driver from Dell's website and have everything back to normal in just a few minutes.
Luckily, you included the brand and model number of your monitor so I was able to quickly find the driver you need. Just follow the directions below to download and install it:
1 – Click this link to visit your monitor's driver download page on the Dell website.
2 – You should now see the most recent driver for your Dell S2316M monitor listed on the page. Click the download button at the far right side of that line (it looks like an arrow pointing down into a box).
3 – After the download is complete double-click on the downloaded installation file to install the driver on your system.
4 – Reboot your computer and check to see if the screen resolution is back to normal (1920 x 1080). If not you should now be able to manually change it back to 1920 x 1080 in the settings.
That's all there is to it, Carol. If everything went as planned your screen resolution should now be back to normal. If not, let me know and I'll tell you what to try next.
Note to others who might be having an issue similar to Carol's…
If you have a different monitor than the one mentioned in this post you should be able to download the latest driver for it from the "Support" section of the manufacturer's website. Just enter your monitor's model number into the Search box.
Update from Carol:  That fixed it Rick. Thanks!
---