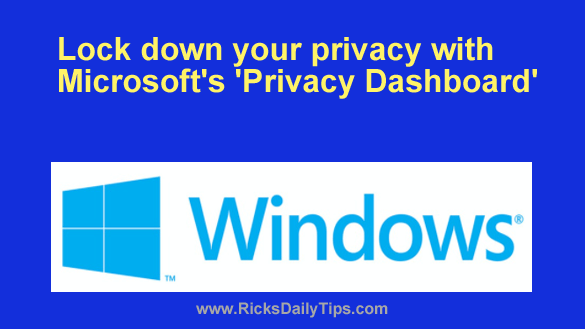 As you probably know by now, Microsoft designed Windows 10 and Windows 11 to be quite intrusive when it comes to your privacy.
By default, the operating system collects all sorts of sensitive user data and stores it on your PC's hard drive and/or sends it back to Microsoft via the Internet.
Luckily, most of Windows' "spying" can be either mitigated somewhat or disabled completely if you know where to look for the various settings.
Unfortunately, finding (and understanding) all of the relevant privacy settings can be a challenge to say the least.
Users have been lodging complaints about Windows 10's privacy issues since virtually day one of the operating system's existence, and Windows 11 is no better.
In response to the constant stream of customer complaints, Microsoft now provides an easy-to-use "Privacy Dashboard" that makes it a lot easier to understand the various privacy issues that exist with Windows 10/11 and mitigate those issues as much as possible.
In a nutshell, the Privacy Dashboard is simply a web page that contains explanations of each privacy issue along with a drop-down menu of options for mitigating each of the potential issues.
Bottom line: I recommend that you log in to the Privacy Dashboard and take the time to read everything you see there.
Several important privacy issues can be mitigated in the dashboard itself, but you'll also learn how to locate and change the privacy settings that must be handled locally on your Windows 10/11 PC.
Visit https://account.microsoft.com/privacy/ to launch the Privacy Dashboard.
Note: You'll be prompted to log in to your Microsoft account if you aren't logged in already.
---