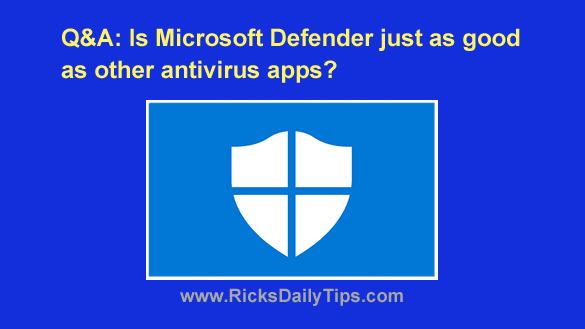 Question from Darryl:  I have always understood Windows' built-in "Microsoft Defender" antivirus app to be inferior to other antivirus programs.
But yesterday I heard that might no longer be the case.
What's your opinion about Microsoft Defender?
Is it really just as good as the third-party antivirus programs that are being sold today?
Rick's answer:  That's a great question, Darryl. And the answer might well surprise you.
When Microsoft first released their own antivirus protection (known as Microsoft Security Essentials in its early days) it quickly earned a well-deserved reputation for being a poor substitute for a commercial antivirus product.
Compared to the commercial antivirus apps it was competing against, the first editions of Microsoft Security Essentials did a rather poor job at detecting viruses and other forms of malware.
And to add insult to injury, its sluggish performance actually made the computing experience worse for users of older and low-end PCs.
But to their credit, Microsoft stood by their antivirus product and invested time and resources into an ongoing effort to improve it.
Virtually every version of the software performed better than the one before it, and I'm happy to be able to report that Microsoft Defender (the latest version of the software) routinely competes quite well against its third-party commercial competitors.
Want proof? Check out the results of the latest round of head-to-head antivirus testing conducted by the independent security experts at AV-TEST.org.
Note 1: As of this writing the latest head-to-head tests were conducted in December 2022.
By the time you read this there could well be a newer test listed on the page I linked to above since they update that same page with the results of each new test.
Note 2: The antivirus apps tested aren't listed according to their ranking in the test results. They are listed in alphabetical order.
Microsoft Defender is listed about 2/3 of the way down the page in the latest test results.
Check it out and you'll see that it earned a rating of 6 (the highest rating available) for two of the three testing criteria (Protection, Performance and Usability). And on the third criterion it earned a very respectable 5/6 rating.
The folks at AV-TEST conduct these tests on a regular basis, and while Microsoft Defender doesn't always earn a perfect 6 rating for all three criteria, it has been consistently at or near the very top of the rankings for at least the past two years.
As you can probably guess by now, my answer to your question is yes, Microsoft Defender really is now just as good at protecting your PC from viruses as its commercial counterparts – or at least extremely close.
Now that I've answered your original question, I need to add a bit of context to that answer…
Like other typical antivirus products, Microsoft Defender does its best work defending your PC against viruses.
Unfortunately, viruses aren't the only form of malware that's attacking machines these days.
We also have to be concerned with phishing attempts, drive-by downloads of Potentially Unwanted Programs (PUPs) and other forms of non-viral malware.
That's why I always recommend that users augment their full-time antivirus software (including Microsoft Defender) by running frequent scans with the free version of Malwarebytes.
Malwarebytes is the gold standard when it comes to apps that protect computers from the broad spectrum of non-viral malware.
What's more, it also serves as a backup antivirus engine in case a nasty virus does happen to slip through your full-time antivirus' web of protection.
Bottom line: Microsoft Defender really is just as good as its commercial third-party competitors at protecting your Windows PC from viruses.
But I also recommend that you install the free version of Malwarebytes to protect your machine against all the other threats that are constantly coming its way.
---