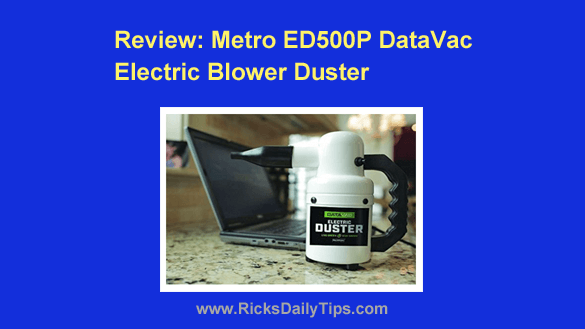 Like my tips?  Click here to sign up for my free Daily Tech Tips Newsletter and you'll never miss one!
---
Note: The links in this post are affiliate links.
I have written several posts explaining why it's important to keep the dust blown out of your computer, so I won't rehash the reasons here.
There are several safe options for removing dust from a computer's innards, including the tried and true method of wielding a can of compressed air.
In the past I always hated using cans of compressed air because they are so expensive, and now I'm happy to announce that I've found something I like a lot better.
I received a Metro ED500P DataVac Electric Blower Duster for review and I found that I like it even better than the trusty data vac.
As its name implies, the Metro ED500P is blower, not a vacuum. It works much like a regular can of compressed air except it never runs out of air while its plugged in and being used.
What's more, the blower in this thing shoots out a stronger and more directed stream of air than a compressed air can. That makes it more effective at removing dust from the crevices and inner reaches of your computer.
At over four pounds this thing isn't exactly feather-light, but it's ergonomic design makes it easy to hold and use. And you'll probably find that it works so well you'll only need to use it for a few seconds at a time.
This awesome tool comes with a number of handy attachments to help with various cleaning tasks, as you can see in the photo below:
I did notice that the "barrel" of the blower gets pretty warm if you use it a lot, but if you hold it by the handle as intended you won't even notice it.
This particular blower duster isn't battery powered. It actually plugs into an electrical outlet, hence the extra powerful blower motor.
But don't worry, the cord is reasonably long and it can even be plugged into a short extension cord if needed. Just be sure to keep a check on the extension cord to make sure it doesn't overheat.
One word of caution: As mentioned earlier, this blower puts out quite a strong stream of air.
I recommend that you take care not to allow it to loosen any cable connections. And be sure to use a pencil, chopstick or other non-metallic "stick-like" item to prevent the blades in your computer's fans from spinning out of control and causing damage to the machine.
Bottom line: If you're looking for an affordable, yet extremely effective tool for keeping your computer's innards clear of suffocating dust and debris, I believe the Metro ED500 deserves serious consideration.
Click here to read more about the Metro ED500P DataVac Electric Blower Duster at Amazon.
---
If you found this post useful, would you mind helping me out by sharing it?
Just click one of the handy social media sharing buttons below. Thanks a bunch!