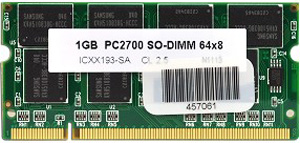 Question from Ron A.:  Rick, I have a laptop (HP Pavilion dv4170us) with 1GB of RAM that is currently running Windows Vista. I looked it up online and found out that it will hold up to 2GB.
I'd like to max out the RAM at 2GB but I have a question. Do you recommend replacing the RAM modules that are already in there with all new RAM or just adding an additional 1GB to boost the total to 2GB?
Rick's answer:  Ron, the dv4170us is a great laptop. I have one myself running Windows XP and Internet Explorer 8 that I use for testing purposes when building new websites. I upgraded mine to 2GB RAM long ago and it runs so much faster than it did with 1GB!
As far as the upgrade goes, you really don't have a choice to make. This laptop only has two RAM slots, each of which is already populated with a 512MB RAM module (for a total of 1GB). In order to max out the system RAM at 2GB you'll have to remove the two 512MB modules and replace them with two 1GB modules.
If you wish to proceed with the upgrade, I recommend visiting www.Crucial.com and running their free System Scanner. This is a very small free download that will scan your hardware and tell you exactly which memory sticks you need to purchase. No errors, no worries! Simply write down the specs for the RAM modules that it recommends, then make the purchase at the electronics retailer of your choice.
If you want you can just buy your new RAM from Crucial while you're on their site. Their prices tend to be slightly higher than some other retailers charge, but the quality of their products is top notch and their customer service is among the best in the industry.
All of that being said, you might want to consider whether your laptop is really worth upgrading. It truly is a great PC, but it's also roughly 8 years old and the memory upgrade will likely set you back at least $60 or so unless you can get a great deal on a couple of used 1GB sticks on eBay. It might well be worth it to you – just something to consider.
I hope this helps Ron. Good luck!
---
Do you have a tech question of your own for Rick? Click here and send it in!