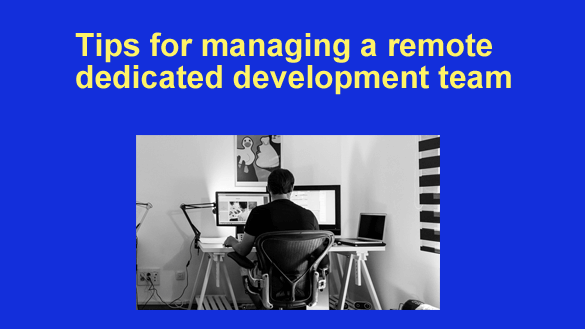 Managing a remote development team can be challenging, especially for those new to this type of work arrangement.
However, with the right strategies and tools, it is possible to build a productive and efficient team that delivers high-quality results. In this article, we will share tips to help you successfully manage a remote dedicated development team. 
Best Practices for Managing a Remote Dedicated Development Team
Establish clear communication channels
Establishing effective communication channels is one of the most crucial components of managing a remote engineering team. When working remotely, it is easy to feel disconnected from the rest of the team, leading to misunderstandings and delays. Therefore, it is essential to have a communication plan, including regular check-ins, video calls, and instant messaging. It will make sure everyone is communicating well and can work together.
Set clear goals and expectations
Another critical factor in managing a remote production team is setting clear goals and expectations. Without clear guidance, it is easy for team members to become disengaged. Therefore, assign a well-defined project plan outlining the objectives, milestones, and deadlines. It will help keep everyone focused and motivated and ensure the project stays on track.
Encourage an environment of trust and responsibility
Trust and accountability are essential components of a successful remote development team. When team members trust each other and feel accountable for their work, they are more likely to take ownership of their tasks and produce high-quality results. Hence, you should promote transparency, provide regular feedback, and develop open communication to create a culture of trust and accountability.
Use project management tools
Project management tools can be a valuable asset when managing a distant engineering team. They can help streamline communication, track progress, and manage tasks and deadlines. Some popular project management tools include Trello, Asana, and Jira. These tools can also help you stay organized and ensure everyone is on the same page.
Hire the right team members
A good idea is to hire the right team members when building a remote team. Look for self-motivated individuals who have excellent communication skills and are comfortable working in a remote environment. Make sure everyone has the necessary skills and experience to complete the project successfully.
Foster a sense of community
Working remotely can be isolating, affecting team morale and productivity. Thus, it's crucial to foster a sense of community among your remote team members. It is possible to accomplish this through online team-building exercises, casual check-ins, and frequent feedback sessions. Encourage team members to discuss their interests and pastimes, as this can foster camaraderie and a supportive workplace environment.
Effective strategies for managing a remote dedicated development team
1 – Embrace flexibility. One of the benefits of managing a remote dedicated development team is the flexibility it offers. Remote work allows team members to work from anywhere, increasing productivity and work-life balance. However, it's essential to embrace this flexibility and be open to adjusting schedules and deadlines as needed. It will help ensure that team members can work at their most productive times while meeting project goals and deadlines.
2 – Provide adequate resources and support. Remote team members may require different resources and support than in-house team members. Implement conditions for your team members to have access to the tools and resources they need to complete their tasks. It includes adequate hardware and software, reliable internet access, and secure data storage. Providing technical support and training can also help remote team members feel supported and valued.
3 – Prioritize cybersecurity. The management of a specialized team should place cybersecurity at the top of the list. Remote team members may be accessing sensitive data and systems from unsecured networks, which can put the entire project at risk. Therefore, it's critical to establish clear cybersecurity protocols, such as using strong passwords, regularly updating software, and using secure file-sharing tools.
4 – Be adaptable to change. The remote work landscape is constantly evolving, and what works today may not work tomorrow. Therefore, it's crucial to stay up-to-date with the latest trends and best practices, be open to feedback from your team members, and be willing to make adjustments as needed. Being adaptable and flexible will enable you to build a dynamic workplace where your team can succeed under any circumstance.
By implementing these additional tips, you can further improve your ability to manage a remote dedicated development team. Remember to foster a sense of community, embrace flexibility, provide adequate resources and support, and prioritize cybersecurity. With these tactics, you can ensure your remote team members have support, productivity, and motivation to produce excellent results.
In addition, for a good managing team, effective communication and collaboration with your remote dedicated development team are critical for success. One valuable tool for achieving this is customer feedback. By regularly sharing feedback from your customers with your team, you can provide them with a clear understanding of the impact of their work on the end users. This can motivate the team to continuously improve their work and help them better understand the customers' needs. Also, customer feedback can help you identify areas for improvement and give you direction for future development efforts.
Summary
Managing a remote production team requires a different approach than managing an in-house team. By applying these suggestions, you can create an effective team that produces products of a high caliber. Remember to establish clear communication channels, set clear goals and expectations, foster a culture of trust and accountability, use project management tools, and hire the right team members.
---