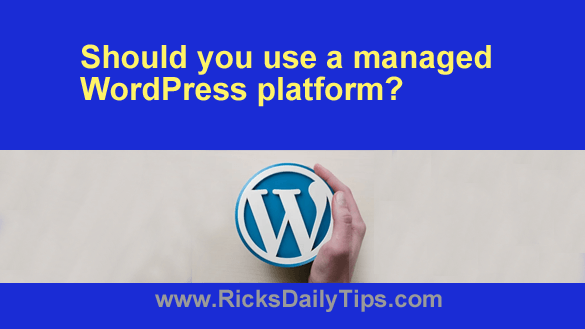 The best WordPress hosting services consider updates, security, and support. In the best case, you won't have to worry about updates, hardware, servers, and other technical aspects.
Instead, you can focus on improving your content and design and reaching out to visitors. This is all possible with managed WordPress hosting.
Managed WordPress hosting offers several advantages over general web hosting plans: 
1 – Built-in security enhancements
Even if your website has never had security issues, this aspect should not be overlooked. The best-managed hosting providers offer integrated security enhancements. They perform backups of your site daily, so it's easy to remedy issues if something goes wrong.
WordPress hosting providers' servers are optimized for security, so you don't need to worry about security plugins. Features like a login attempt limit, password control, and two-factor authentication should be available.
If you do suffer an attack, your host should be able to eliminate malware. Some companies provide this service for free, while others charge a small fee.
2 – Improved performance and speed
A major benefit lies in the fact that a managed WordPress host has adapted their entire tech stack to the specifics of the content management system. Your site will have better uptime and load faster as a result.
Generally, there will be fewer issues than if you don't have managed hosting. You don't have to do anything.
WordPress hosting providers can optimize your servers based on what themes and plugins you use. They can also make instant scaling available, have server locations all over the world, and offer CDNs and other performance enhancements.
These high-quality features are simple to integrate. You can always turn to the support team if you have trouble.
The security and performance benefits alone make hosting for WordPress worth considering. Your site won't suffer downtime or hacking thanks to the reliable infrastructure deployed by competent professionals.
3 – Changes in Staging
WordPress has a so-called staging area where you can try out different elements before taking your site online. This is the space to make changes. Normally, you can set it up in a few clicks.
You can make updates and changes outside the server in the local environment. You push your website to a staging area to test it and move it to production when ready.
Your managed hosting service of choice should be able to provide the tools you need to follow the workflow of development while collaborating with employees or customers.
Always make small, consistent changes in the staging environment to avoid the dreaded "white screen of death."
4 – Getting an SSL certificate installed
If there is a small lock next to the URL in the browser, that means the site is secure and has an SSL certificate. If this is not the case, you'll get the warning "connection is not secure."
If you opt for managed WordPress hosting, adding an SSL certificate to your site will be a piece of cake. You can do it in a few clicks.
Many hosting services even have free SSL certificates. Your provider can help you set up a wildcard, EV, or another advanced SSL certificate.
5 – You can resell hosting
WordPress supports the majority of websites, and there is no shortage of opportunities if you're considering reselling hosting.
Many WordPress hosting services actually encourage their users to resell hosting. You'll find referral programs, partner programs, and even add-ons designed specifically to support the reselling workflow.
6 – Convenient Website Management
One final benefit of managed hosting is that everything is kept neatly organized in one place. All of your sites will be in a single hub. Managed hosting saves lots of time, which is of paramount importance if you're getting more customers or otherwise growing your business.
As the host takes care of updates, your site will always have the latest plugins, PHP, and themes, as well as core updates.
---